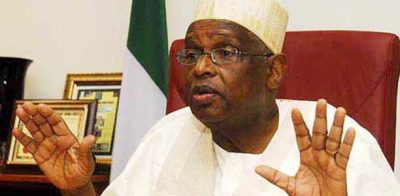 Monday Column by Emmanuel Yawe
royawe@yahoo.com | 08024565402
Professor Jibril Aminu certainly has seen it all in Nigeria. I feel very privileged that a man who has seen so much of my country throws the doors of his house open to me anytime I come calling. Not only do I have this singular honor with this distinguished Nigerian, I have the added one of sharing meals in his house and discussing the prevailing conditions in our country.
Born in August 1939 when western education was a strange thing in Northern Nigeria, the little lad then known as Jibril Mohammed Aminu was one of the few lucky chaps to enroll in a western school in Adamawa Province.
His brilliance stood him out among his peers, making it easy for him to gain admission into the premier University in Nigeria at Ibadan to read medicine. There again, his performance as an exemplary student, always coming top of his class stood him out. He obtained an M. B. B. S at the university in 1965 and moved on to acquire a PhD in Medicine from the Royal Post-Graduate Medical School, London in 1972.
His excellent academic credentials have paved the way for him to be appointed a Fellow of the Nigerian Academy of Science in 1972, a Fellow of the Royal College of Physicians, London in 1980 and a Fellow of the West African College of Physicians also in 1980. And in 2004 he was made a Distinguished Fellow of the Nigerian Postgraduate Medical College in 2004.
Before he took a plunge in politics, Prof Aminu took time to build a sound career foundation in academics. He was a Consultant in Medicine, Senior Lecturer and Sub-Dean, Clinical Studies at the University of Ibadan Medical School (1973–1975), and Executive Secretary of the National Universities Commission (1975–1979). He was Visiting Professor of Medicine at Howard University College of Medicine in Washington DC (1979–1980) and Vice-Chancellor of the University of Maiduguri, 1980-1985. He was also Professor of Medicine at the University of Maiduguri (1979–1995).
His career in politics started with his appointment as Federal Minister of Education and then Federal Minister of Petroleum and Mineral Resources in the mid 80's up to 1992. While Petroleum Minister he was President of the African Petroleum Producers Association (1991) and President of the OPEC Conference (1991–1992). He was elected a delegate to the National Constitutional Conference (1994–1995) and appointed Nigeria's Ambassador to the United States from 1999 to 2003.
He contested elections into Senate and was elected to represent Adamawa Central in the highest legislative body in Nigeria in 2003 and reelected in 2007. As a Senator Aminu was appointed to committees on Foreign Affairs, Education, Air Force and Health.
On 2 January 2010, Aminu was installed the "Bobaselu of The Source" by the Ooni of Ife, Oba Sijuwade. He was again appointed a member of the Constitutional Reform Committee in 2014.
A few days before Christmas of 2017, I came knocking on his door in Abuja without invitation. Once the door was opened I stepped in to demand from the Adamawa Fulani man a cow to celebrate my Christmas. My demand – not request of a cow – was rejected under the pretext that my Tiv ethnic group do not know how to kill cows because we employ very cruel methods in doing so. Still, he treated me to a sumptuous three course dinner.
And then we got to our fire side chat about the state of affairs in Nigeria. He fired the first shot against my profession saying journalists played a leading role in precipitating the political crises of 1966 in Nigeria which led to a civil war. "I have mentioned their names at different meetings. People like Nelson Ottah and Peter Enahoro, I don't care about them; they didn't care about Nigeria, so there is no reason why I should respect them. There are many others and even recently, we are getting some of them," he stated.
He said it was regrettable that even a great journalist and a patriot like Babatunde Jose failed the test in 1966 when he wrote an editorial in the Daily Times advocating the dissolution of Nigeria.
He did no spare even his own class of Nigerians – the politicians – in our fire side chat. He accused them of spreading hate speeches and careless talks in an attempt to impress the audience. "I have seen this country in a very bad state, particularly, in 1966/67, when we did not know where we are going,"
He noted that there has been a reduction in hate speech since the government criminalised it recently but regretted that there is still a lot of careless talk in the country.
"In this country, everybody has to be careful, we can't just continue to be talking and saying anything we like. We can't leave this to the government alone, everybody should become the legislator, the courts and the police for himself or herself.
"If they ask me to get out of Nigeria now, to go, where would I go? There is no where you will go and enjoy this kind of freedom without interrogation, nowhere. I know that because I happen to have been around. You can't just say whatever you like anywhere. Some of these big nations, you say one thing against them, they either deny you a visa or fine you. Its only in Nigeria, only Nigeria, that is why our people, I am sorry to say, tend to be reckless in what they say and what they do.
"I like to say I have hope for this country, if I don't have hope I would not be speaking. People don't look at this country as a motherland or fatherland; who knows what they say or look at Nigeria. Maybe they see it as a market. Nigeria is a market. Let the goods come, you are free… you go to the market for years, one day you will go in the morning and you don't find the market; you look and ask, where is the new market? This is what is happening. If anything happens to your country, you will regret," he warned as the fire side talk ended in the early hours of the morning.
I left his house without my Christmas cow, sadly; but happy that I had taken a deep seep from the wisdom of the great man.