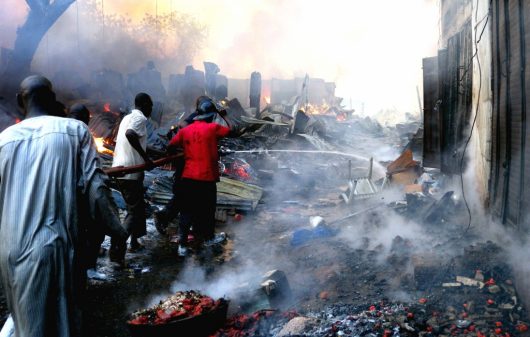 Stanley Onyekwere
No fewer than 15 shops and 10 houses were purportedly gutted by fire in Nyanya the early morning of yesterday , a densely populated outskirt of the Federal Capital Territory (FCT).
Our correspondent reports that the shops mostly affected by inferno were those belonging to food vendors, provision dealers, tailors, computer operators, saloon operators and electricians, including residential apartments in people occupied the living rooms.
Narrating the incident, one of the victims, who identified herself as Nkechi, said the shops located along Check point, the boundary between Mararaba in Nasarawa State and Nyanya in Abuja were razed down by inferno caused by an electrical fault.
According to her, the inferno started at about 8:30 am, following an electric spark which ignited fire in the shop of one electrician whose name she refused to disclose.
She explained that the electrician rather than raised alarm for quick intervention was trying secretly to quench the fire until it overpowered him and spread to other shops and rooms on the block.
It was gathered that though no life was lost in the inferno, all contents of the shops and rooms including wares and household items were completely burnt even with the prompt arrival of the Federal Fire Service who only prevented the fire from spreading to nearby buildings.
Meanwhile, all attempts to reach out to the FCT fire service failed as the authorities were not ready to speak to press as at the time of filling this report.