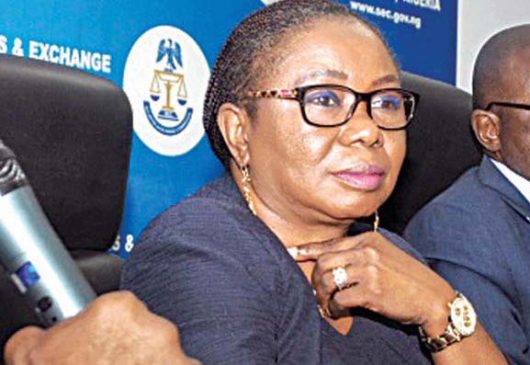 By Etuka Sunday
The Securities and Exchange Commission (SEC), yesterday said it would soon come out with regulations that would guide such products in the capital market.
This was disclosed by the Acting Director General of the SEC, Ms. Mary Uduk during the presentation of a Lecture by Mr. Ade Bajomo, Vice President FinTech Association of Nigeria titled 'Market Impact of the FinTech Revolution" in Abuja, Wednesday.
Uduk who also announced Bajomo as Chair of the Capital Market Committee on Fintech Roadmap for Capital Markets in Nigeria, said the SEC as the apex regulator of the Nigerian Capital market is interested in investments that Nigerians are making especially with the advent of digitalization.
"If we will regulate this market and understand what is happening we need our staff to understand the rudiments of FinTech. Very soon the whole world will move to technology for regulation. Other jurisdictions have already gone far into it with some of them already amending their rules in that direction.
"The International Organization of Securities Commissions (IOSCO) is on it and there is a lot on it already all over the world and we can't be left behind. We are very much interested in some of the most active areas of Fintech innovation like block chain technology, crypto currencies and how they affect investors" she said.
She stated that as regulators of the capital market, it is the responsibility of the SEC to find out how such investments are going on and if they meet set standards because when investors lose money they will come back to the SEC adding "That is why we are seeking to understand what FinTech is all about to enable us regulate the market properly.
Uduk recalled that during the last Capital Market Committee meeting in Lagos, the Committee agreed to set CMC to set up a Committee to draw a Fintech Adoption roadmap for the Capital Market.
The Ag. DG alluded to the growing influence of Fintechs as she stated the need for the Capital Market to take advantage of the Fintech offerings in moving the Capital Market forward.
She equally emphasized the focus of the Commission on capacity building, knowledge sharing, advocacy and collaboration with relevant entities.
According to her, "the Capital Market needs to create an enabling environment that is attractive enough for Fintechs to innovate as the Market should engage actively with the new trend in technology and provide the adequate regulatory framework for proper adoption of suitable technology and that is one of the reasons why we have invited FinTech here today for this presentation"
In his presentation, Executive Director Information Technology and Operations of Access Bank as well as Deputy President of FinTech Association of Nigeria (FinTechNGR) Mr. Ade Bajomo expressed the need for regulators to understand what FinTech is all about as that is where the world is moving to now.
Bajomo said regulators need to know what to regulate, how to regulate it, protect investors as well as drive commerce as if they don't regulate this properly, it could hinder the growth of Africa.
"We have to get into the digital agility and understand that the old way of doing things will not work in this digital age. Whether we like it or not, people will adopt digitalization, it is just inevitable. It is the simplicity that is driving this entire reforms. Our markets have to reposition to provide the proper regulations to facilitate entry and exit by these people which will lead to raising of funds, bringing of new products and driving the FinTech revolution.
"There exists over 5,000 FinTech companies globally. Startups are also springing up an increasing pace. FinTech hubs are proliferating globally in tandem with ongoing disruption in financial services. These hubs are all vying to become established FinTech centres in their own right, and want to contribute to the broader financial services ecosystem of the future.
"The future FinTech scape will be molded by regulatory bodies- national and international as they seek to mitigate the risks, and leverage the opportunities presented by FinTech," Bajomo stated.
He also stated that the SEC needs to ensure there are proper regulations that would enhance cyber security as it is the single biggest threat to the FinTech revolution.
"We have to get the issue of cyber security right as if we get it wrong investments and assets may disappear. SEC has shown a very good example by showing the readiness to want to participate in this industry and help it grow with relevant regulatory framework. That is a good step that will help both the industry and the investors and help grow our economy in the long run.
Financial Technology also known as FinTech describes a business that aims at providing financial services such as personal financial management, insurance, payment etc. by making use of software and other modern technology.
FinTech generally aim to attract customers with products and services that are more user-friendly, efficient, transparent and automated than those currently available.
In his remarks, President FinTechNGR, Dr. Segun Aina said "FinTech has supported the banking industry tremendously and the capital market will also greatly benefit from it. In every aspect of financial services, FinTech important and that is why we are driving the process in Nigeria".