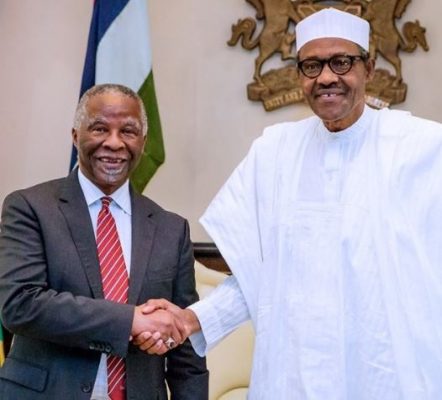 By Lawrence Olaoye
President Muhammadu Buhari has declared that his fight against corruption in the country was total and not negotiable.
Buhari made this declaration yesterday when a former President of South Africa, Thabo Mbeki, who heads the African Union High Lebel Panel on Illicit Flows from Africa, was at the State House to give him critical updates.
According to a statement made available to newsmen by his spokesman, Femi Adesina, Buhari who maintained that fighting corruption was one of the reasons he got elected as the Nigerian President said "For this administration, fighting corruption is non-negotiable. It is a mustT.
"We must fight corruption frontally, because it's one of the reasons we got elected," President Buhari told his guest. We campaigned on three fundamental issues; security, reviving the economy, and fight against corruption. It's the reason we got elected, and we can't afford to let our people down."
Noting that the government was making progress on the anti-corruption war, "and not just talking," the President said he was very pleased with the assignment the former South African President was carrying out for the African continent.
He submitted that when Africa is vigorous with the war against corruption, "we will eventually appeal to the conscience of the rest of the world."
In his remarks, former President Mbeki said corruption was an African challenge that must be responded to, "as development challenges can only be met through the check of illicit financial flows."
He said he was delighted that President Buhari touches on the issue in most of his speeches, with the most recent being at the United Nations General Assembly last week.
"We are pleased with the way you take up the matter. Countries need political will to stop the illicit flow. Nigeria has shown good example. The more we are showing that we are acting as Africans, the easier to get the rest of the world to cooperate," Mbeki said.