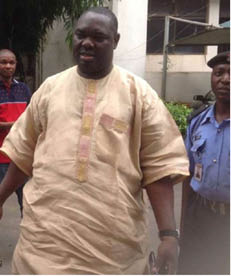 By Albert Akota
A lawyer, Ardzard Habilla, has said that the Federation of International Football Association (FIFA) cannot ban Nigeria over the lingering leadership crisis in the Nigeria Football Federation (NFF) which he added needs to be sorted out internally by the country's judiciary.
Mr Habilla, who is counsel to Chris Giwa, an NFF factional President, said this in Abuja on Thursday while addressing reporters on the threat by FIFA to ban Nigeria from all football activities following intervention by the court.
Mr Giwa had dragged the Pinnick-led board to court over forceful takeover of the NFF secretariat following Mr Pinnick's emergence as president in an election conducted on September 30, 2014.
The election prevented Mr Giwa who claims to have emerged as NFF president at an earlier election on August 26, 2014, from assuming office.
It will be recalled that the Supreme Court had in April, set aside a 2016 judgment of the Appeal Court on the leadership tussle and sent the matter back to the Federal High Court sitting in Jos, Plateau, which had earlier mandated Mr Giwa to take over as president.
Mr Habilla told reporters that the threat by FIFA was a calculated attempt to subvert the constitution of the country and an act of neocolonialism.
"Do we take it that FIFA laws are superior to the judgment of the highest court in our land — the Supreme Court, and has FIFA elevated itself before the constitution of Nigeria?
"When we went to Court of Arbitration for Sports (CAS), it said that the issue before it is not the validity of the election, and that it is the domestic law of Nigeria that should determine the validity of an election or elections.
"FIFA is bound by the decision of CAS and that is why the Giwa-led board went to court to determine the validity of those elections," he said.
"So, if CAS gave this judgment that domestic laws of a country should determine the validity of its elections, why should FIFA threaten to ban Nigeria, when this is the decision of CAS and FIFA is bound by the decision of CAS?
"If FIFA is aggrieved with the decision of CAS, it has the right to go the Swiss Court to seek judicial review, so, FIFA cannot continue to play double standard.
"As we speak, FIFA has never for one day heard from Giwa on this matter rather it prefers to go by the tactics of the Pinnick-led board."
He urged FIFA to purge itself of bias and respect the country's judicial system or face another round of challenge at CAS.
According to Mr Habilla, it is ironical for Mr Pinnick to accept the position of CAF Vice-President made possible after a court in Ghana sacked the country's FA Chairman who was the then CAF Vice-President, and then, refuse to accept a court judgment in his own country.
"FIFA is not supposed to interfere in domestic affairs; article 69 (2) of the NFF statutes says `domestic affairs should be determined in Nigeria and FIFA jurisdiction only comes in when it involves international disputes'.
"So, FIFA cannot ban Nigeria; I challenge FIFA, if they feel they are impartial in this matter, let them come to Nigeria or invite both parties to Zurich, Switzerland; that is the rule of natural justice.
"We want to know if FIFA can approbate and reprobate all at the same time.
"Recall that FIFA in responding to a petition by one Barrister Leo Igbokwe, admitted that it has no powers to interfere in the internal matters of NFF, so, what has changed now? It has now assumed powers to interfere in the domestic matters of NFF," he said.
He wondered why FIFA had refused to recognise the Giwa-led board which was duly elected on August 26, 2014.
"No one in Nigeria has challenged the validity of that election before NFF Electoral Appeals panel which was legally constituted by the former NFF executive committee led by Aminu Maigari.