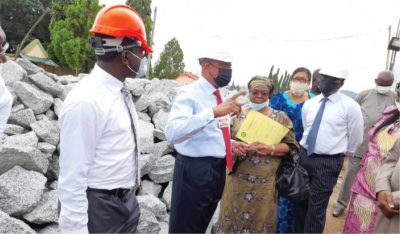 By Mashe Umaru Gwamna
The Managing Director/Chief Executive of the Federal Housing Authority (FHA), Senator Gbenga Ashafa, has applauded staff of the Authority and contractors building quality houses.
Ashafa, who give the recommendation during an inspection tour of Federal Housing Estate, Lugbe, Abuja, said it was in line with President Muhammadu Buhari's directive, for FHA not to fail to provide Nigerians with affordable housing.
With this mandate, he called on the staff of the authority to key into the mandate given to him by the president, saying that affordable housing is achievable.
The MD who also expressed his satisfaction with the calibre of professionals in the FHA, saying that with them much would be achieved.
"The mandate President Muhammadu Buhari gave us is to provide affordable housing for Nigerians. The President has sent us here, not only to provide affordable housing for Nigerians, but to give them livable accommodation. So, the era of doing shoddy jobs is over".
Ashafa has earlier inspected mass housing site in Zuba, where the agency had developed about 750 housing units,also called on the staff of the FHA staff to be more dedicated to their duties.
"I must applaud the efforts of all the staff, for a very good job done in this site. I am really impressed with the calibre of professionals in FHA. What I am seeing here attests to that.
According to him, "This tour is to give us first-hand information about the activities of the Authority. It is necessary we see these places, because some of the issues that may arise here will be part of the problems we may be required to attend to.
"It is therefore good that we have come here to see things for ourselves, so that when they come to us, we will be in a good position to address them, having seen things physically'', he said.