FG to spend N922m on public buildings' maintenance annually -Fashola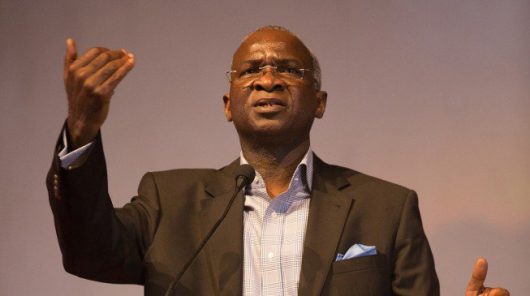 By Mashe Umaru Gwamna
The Minister of Power, Works and Housing Babatunde Fashola, has said that, the federal government will spend N922.8 million to maintain government public buildings annually.
Fashola, made the disclosure during a press conference in his office in Abuja on the implementation of the national infrastructure maintenance framework.
He said nine public buildings have been selected as pilot scheme for the project.
He said the maintenance policy which has been approved by the Federal Executive Council (FEC) on the 9th of February 2019 has opened a new chapter of economic activities that brings 1.5% to 3.5% of our Gross Domestic Product (GDP).
The Minister said about 422 Nigerians would be employed annually for the project, adding that the project will save the country the sum of N40.3billion, which could have been expended to reconstruct the nine selected public buildings.
He said: "Let me start with the National Maintenance Framework on Public Buildings and first point out that for now, this only applies to public buildings but will ultimately extend to other public assets like roads, bridges, rail, power installations and other infrastructure of a public nature.
"The decision was provoked by a memorandum from the Ministry of Power, Works and Housing that challenged the conventional thinking that "Nigeria does not have a maintenance culture.
"The memorandum argued and the Federal Executive Council (FEC) agreed that maintenance of infrastructure whether public or private, is not a cultural issue but an economic one.
"Therefore, the federal government's decision on maintenance is an economic one, to empower Nigerians at the base of the economic pyramid who are artisans, those at the middle of the pyramid who own small businesses, SMEs, who are involved in manufacturing of building and allied materials.
"Our pilot programme covered nine (9) buildings comprising a federal government college, a federal hospital, a federal court building, a federal prison, a federal secretariat and our office buildings at our headquarters here in Mabushi (Abuja) and Power house.
"The pilot survey showed that these nine (9) buildings will cost N40.3 billion to reconstruct, while it will cost N¬¬¬922.8m per annum to maintain them which is about 2.3 % of the cost of replacement.
"Just these nine(9) buildings will require about 448 people to keep them well maintained a year. For example, the school will require at least 30 people to be employed per school for maintenance; and the federal government owns 104 Unity schools which potentially will require 30 X 104 = 3,120.
"This is another opportunity for jobs to re-design, to re-model, to retrofit all our assets nationwide to comply with the law as signed by Mr President.
"The maintenance policy will be extended to other areas but we are starting with buildings and bridges first".
He also urged permanent secretary, Director of organisations and various agencied among top government officials to ensure that all hands are on deck to play their parts to the realisation of vision.
Meanwhile,Fashola also tasked citizens to take maintenance as a religion in the country and see it as a service to humanity.