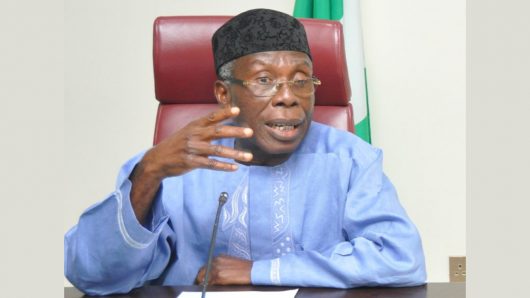 By Paul Efiong,Abuja
The Minister of Agriculture, Chief Audu Ogbeh has expressed the readiness of the Federal Ministry of Agriculture to support efforts that would digitize and improve agriculture in the country.
Chief Ogbeh made this known during the 2018 farmers' open day forum held in Abuja.
The forum was an awareness programme organised by a group known as Initiative for Sustainable Marketing Society, ISCOMS, with the theme: Digitization a Panacea for Youth Participation in Africa.
The Minister who was represented by Acting Director Cooperative Policy and Programmes, Ministry of Agriculture and Rural Development, Alhaji Idris A. Sani expressed the Federal Government's willingness to partner with any group in digitizing agriculture, improve yields and ensure food sufficiency in the country.
According to him, "the President Muhammadu Buhari led administration is working hard to improve agriculture in line with its policy on Ease of Doing Business and Economic Growth and Recovery Plan, ERGP," he said.
He urged participants who are mainly youths from various parts of the country, to take advantage of ISCOMS platform and partner with government in the efforts to diversify and grow the economy.
In his welcome address, ISCOMS Executive Director, Joel Prince stated that the event afforded his group opportunity to motivate and engage youths actively into agriculture.
He drew the attention of participants to the fact that over 70 percent of agricultural practices in Nigeria is still done the way our fore fathers left it. He advised that if Nigeria is to attain its full agricultural potentials, we must as a matter of urgency change the narratives saying that over 60 percent of the nation's productive workforce must actively engage in agriculture as one sure way to ensure food security and job creation for the country.
According to him, "our initiative is aimed at facilitating the emergence of a new generation of farmers/ entrepreneurs. With the launching of two e- agricultural platform, youths from around the country can own a commercial farm from the comfort of their homes. We have talked agriculture long enough it's time to start doing agriculture.
Earlier in his remarks, Dr. Baba Oluwasheun of Institute of Tropical Agriculture, ITA, commended ISCOMS for bridging the gap between local farmers and technology. He urged Nigerians, especially the youths to join ISCOMS saying that the future of this country lies with agriculture.