FG rewards Commonwealth Games medal-winning athletes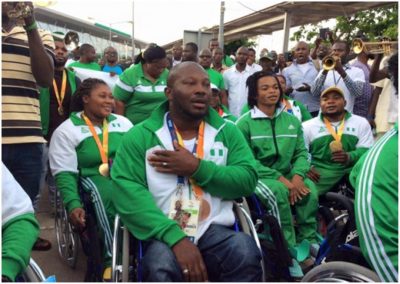 By Amaechi Agbo
The federal government has redeemed its pledge in rewarding the medal-winning athletes at the ongoing ongoing 2018 Commonwealth Games.
The federal government, through the Minister of Youth and Sports, Solomon Dalung, yesterday rewarded the Team Nigeria that is currently participating at the ongoing Commonwealth Games in Australia.
It was all smiles as the medal-winning athletes were rewarded by the federal government for their heroics in the XXI Commonwealth for winning gold or silver so far for the Nigeria contingents. The cash presentation was presided by the Minister.
Speaking at the brief event, Dalung said the bonus presentation should not be seen as adequate reward for the selfless determination, hard work and resilience of their sterling performances but as an incentive for them to do more.
Dalung said the gesture was just a token of appreciation to the athletes and coaches who have worked tirelessly in putting Nigeria's name on the medals table.
The sum of $5,000, $3000 and $2,000 were presented to gold, silver and bronze medal winners, respectively.
Coaches of victorious athletes also got $5,000 each while team sports medalists (more than 2 participants such as Silver winning Table Tennis team) were also handsomely rewarded for their heroics.
Dalung charged them to go back to the Games Village and tell other athletes about the FG's new resolution to keep its own side of the bargain made before the games, adding that "The payment of winning bonuses is expected to be an ongoing exercise for medal-winning athletes at the 21st Commonwealth Games."
On her part, the President of the Powerlifting Federation, Mrs Queen Oboh also presented cash prize of N100, 000 each to all the gold winning powerifters and their coaches while silver medal-winning athletes got N50, 000 each.
As at the time of this report, Team Nigeria are occupying the ninth position in the medal table thanks to the para powerlifters who won four gold and two silver medals. Following their feat, Team Nigeria now has four gold and four silver medals to bring their total medal haul to eight, making them Africa's second highest placed team.
South Africa is Africa's highest placed team as they are fifth with nine gold, six silver and six bronze, with a total of 21 medals.
Uganda is placed in the 14th position with two gold and one bronze and Botswana with one gold and one silver are in 17th.
Other African countries are Kenya in 23rd with two silver, two bronze, Mauritius with one silver are 25th and Cameroon with one bronze are 29th.
Hosts Australia lead the medal standing with 50 gold, 38 silver and 42 bronze to bring their total medals to 130.
In second position is England with 24 gold, 29 silver, 21 bronze and a total of 74 medals. India is third after amassing 21 medals overall which comprise 11 gold, four silver and six bronze and New Zealand are fourth on nine gild, 10 silver and seven bronze and a total of 26 medals.
The 2018 Commonwealth Games, officially known as the XXI Commonwealth Games and commonly known as Gold Coast 2018, kicked off on 4April and will end on the 15.
There are 71 nations competing at the 2018 Commonwealth Games. Maldives were scheduled to participate, but in October 2016 they withdrew from the Games while The Gambia returned to the Commonwealth Games after being readmitted as a Commonwealth Games Federation member on 31 March 2018.