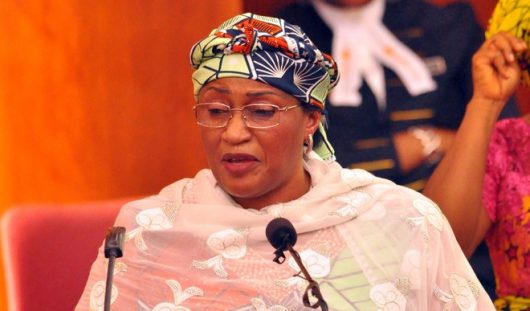 By Usman Shuaibu Abuja
Minister of Women Affairs and Social Development, Mrs. Aisha Al-Hassian has vowed that government will not rest on its oar at elevating the suffering of widows in the country.
She lamented the poverty and injustice faced by millions of widows and their dependents.
Mrs. Al-Hassan said this in Abuja at the Rock of Ages Empowerment Foundation programme organized to celebrate the 2018 International Women's Day.
She urged women especially widows to keep working hard no matter the condition while they are waiting for assistance from various quarters.
The minister who was represented by the Desk Officer, Women and Gender Affairs, Mr. Odeke Bendard said: "Government is working round the clock to alleviate the suffering of women and widows especially.
International Widows Day is the United Nation's annual global day of action to address the poverty and injustice faced by millions of widows and their dependents in many countries. It was initiated by the Loomba Foundation, India in 2005 and officially recognized by the United Nations General Assembly, on a motion by the Government of Gabon, on 22'"ll December 2010. It is celebrated on 23'"d J une annually and the significance of the 23 June is that this was the day, in 1954, when the woman who inspired the founding of the Loomba Foundation, Shrimati Pushpa Wati Loomba, became a widow.
"The UN system therefore determine to recognize the importance of the contributions of widows and ensure that they embody the rights and social protections they deserve to reduce the suffering that widows endure by raising their status and helping them in their hour of need.
This will contribute to promoting the full and equal participation of all women in society and bring us closer to ending poverty and promoting peace.
"Our hope is that at the end of this programme we will promote the full participation of women in the society and also reduce the level of poverty among women."
The Founder of Rock of Ages Foundation, Evang Ignatus Ezeigbo said the foundation budgets N15 million yearly to empower widows.
He advised government to always assist women especially widows.