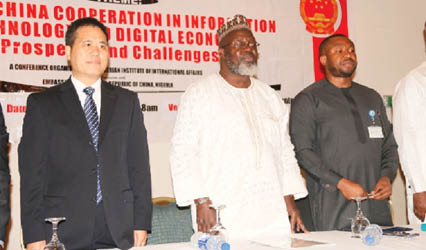 By Lillian Chukwu
Minister of Communications, Dr. Adebayo Shittu is set to partner with relevant stakeholders including the Alliance for Affordable Internet (A4Ai) to strategize the Information Communication Technology sector on new Broadband plan for affordable universal access.
Shittu made the pledge recently in Abuja while addressing participants at a coalition meeting, with the theme on 'Digital inclusion: opportunities and strategies for a new Nigeria Broadband Plan,' organized by A4Ai.
In his welcome address, the National Coordinator of Alliance for Affordable Internet, Dr. Ernest Ndukwe appealled to the government to make friendly policies to address some challenges relating to the high price of internet services which poses a hindrance for women, rural dwellers, and low-income earners.
The Minister noted that the government is determined not only to create policies and incentives, but also to collaborate with a coalition like A4Ai to ensure universal access to broadband, and in turn, contribute to a richer and diversified economy.
The Minister added that the current administration recognizes the urgent need to increase access and usage of internet and broadband in Nigeria.
According to him, ICT sector has a great role to play in order to achieve the nation's vision 20:2020 which outlines the government's aim to make Nigeria a top 20 global economy by year 20:2020.
He stated further that broadband development is key to stimulating growth, policy harmonization for enhancing ICT infrastructure and attracting investment, as a result, the Ministry of Communications will leave every stone unturned to review and revise the Nigerian Broadband Plan to revamp its advancement.
Shittu said, "I take this opportunity to applaud A4Ai efforts and contributions in the developments and growth of the country through this noble initiative.
"The ministry remains resolute in support to your course to meet the goals as we continue to engage you and other stakeholders towards an effective broadband policy intervention from time to time" he explained.
He noted that the UN Broadband Council's adoption of the "1 and 2" affordability target is a reflection of the impact and dedication of A4Ai, especially in Nigeria, the first country to endorse this target.
Dr. Shittu said that his presence at the meeting is a demonstration of his Commitment and strong belief on the coalition and in using ICT as a major driver of Nigeria's developmental governance and economic reform plans, which brings about the affordable internet for all.
The Minister charged the Coordinator of A4Ai to make the recommendations of the meeting available to the Ministry of Communications for implementation in other to advance Broadband Penetration and affordability at the "1 and 2" target.
Ndukwe, said Nigeria is leading other African countries in interconnections having met over 30 per cent target of broadband penetration with 50 per cent of its population having access and connection to internet services.
He asserted that Nigeria is the first African country to join the A4Ai which means the country is hungry for internet, it's also the first African country to record strong spectrum pricing and implementation breakthrough, to mention a few.