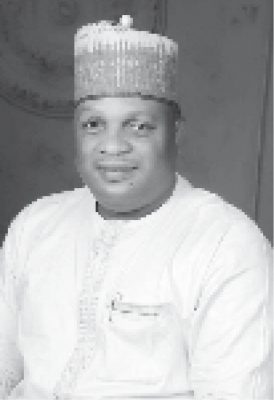 Dr. Jamiu Yusuf is the CEO of Glodaris Technology and a Nigerian/UK based technology consultant. In this interview with Usman Shuaibu, he spoke passionately on the need to promote indigenous manufacturing for economic growth.
Three notable policy trust of this present administration are fighting corruption, insecurity and repositioning the economy. To what extent has the Federal Government tackle these, especially the economy of the country?
This is a question that has always come to me each time. I face the press on issues concerning Nigeria. I am always delighted to put one or two words concerning this because any country without a stable economy is bound to fail. She will wobble and feels insecure and for this reason, every responsible government will always strive to ensure that her economy is at least near to stability. In Nigeria, this is almost difficult. The dwindling nature of the economy calls for concern because I remember with nostalgia when our local product attracts huge foreign exchange. Our currency is equaled to dollar and pound.
What do you think is the cause of this development?
The matter didn't just start. Mark this; a lot of factors engineered it. It gradually grew to the point whereby austerity measures came; economic recession equally came. And to get out of these economic quagmires a lot need to be done to tackle the issues. For instance, unemployment, inflation, corruption, insecurity that are sliding us backward. To answer your question, I think cause or causes of this ugly development are in colouration of the factors I mentioned, orchestrated by bad leadership or governance. The sincerity of purpose of our leaders left much to be desired. The corruption tendencies are quick to provocation. Hence, the citizenry has lost hope and decided in a manner that suggests government activities are in the hands of "no animal-owner" syndrome. To this extent, the economic system we inherited from the colonial masters scattered with attendant corruption, indiscipline and impunity.
How do you assess the government intervention in ensuring that the manufacturers in the country produce optimally?
Manufacturing sector is that if provided with a better environment can provide jobs to millions of people because it is the only sector that can provide three shifts a day and this will trigger Nigeria economy. It will make the employers to work 24 hours because currently, Nigeria economy goes to sleep at 6pm daily while other developed or even developing nations work for 24 hours.
Besides, there is need to reduce the cost of moving raw materials and goods from one destination to another either through Port, Air or Rail system. Today's economy trends have changed and global market have also become over more competitive, forcing many companies to shut down production line or downsize in order to meet their bottom line. For instance, currently energy cost accounts for 40 percent of production in the manufacturing sector, hence the need to create other ways to reduce further cost of production. That is why we are providing LEAN Manufacturing workshop.
No doubt, we appreciate the efforts of the present government through the current Minister of Industry, Trade and Investment (H.E. Otunba Adeniyi Adebayo) by making efforts to create enabling environment, policies and programmes aimed at repositioning the economy. However, more needs to be done.
Is it only the government that will be responsible for reshaping the country's economy?
No! Emphatically No. It is not. By the way, what is government? Who is the government? We are the government. Except that few of us are entrusted to the management of the country's resources. Unfortunately, those successively being entrusted with this task have grown horn abysmally and have refused to make adequate utilization of the resources. And here we are, battling on how to reposition, reinvigorate the economy.
You said it is not only government that can assist in situating the economy?
Yes, I said so. This is why as a consultant and an expert in technological development, I have continually addressed that whoever has a good vision or innovation about how the country will be repositioned; let him/her come up with it. Hence, my firm, GLODALIS TECHNOLOGIES CONSULTANT LTD are embarking on capacity building empowerment with the MANIFACTURING ASSOCIATION OF NIGERIA (MAN) to carry out A-3 Day workshop slated to hold in Abuja, the nation's capital on 18th to 20th February, 2020.
What is the conference/workshop all about?
Thank you. It is all about our mission to help manufacturing companies with their lean manufacturing system journey to find new ways of manufacturing improvement, with theme continuous improvement- when traditional ways of production just aren't enough. We are bringing into Nigeria the best hands in manufacturing system from USA, CANADA and UK to come and share their expertise to Nigeria's manufacturers.
What do you mean by lean manufacturing system?
Lean manufacturing system is founded on the Toyota production system. It is a management philosophy which shortens the time between customer order and the product delivery by eliminating all inefficiencies (source of waste). This is ultimately reflected in terms of quality delivery, cost and greater team morale, making a company capable to overcome bigger challenges among their competitors. Indeed, LEAN MANUFACTURING TECHNIQUES improve quality production in manufacturing sector. For instance, SIDEL is a manufacturing company providing packing equipment for liquid beverages. The company uses LEAN manufacturing system at all its production sites, which benefit beverage producers world-wide. Lead time and wastes are reduced while overall quality is improved and resulted in $3.8 Million incremental sales and 80% increase in profit in just the first two months. It is mindset for Sidel.
Tell us more about the workshop.
In today's competitive global economy, coupled with the demands and challenges being faced by the manufacturing industries, the workshop will no doubt address issues concerning maintenance of high productivity and efficiency, quality delivery of products and at the same time reduce or minimize waste during production. The 3-day workshop will address this, more especially in helping manufacturing companies to learn on how to navigate through difficult times by showing how to create a seamless flow of people, material and information.
Is the workshop meant for everybody? In fact, who are the target audience?
The conference is targeting the desirous manufacturer, such as the CEOs, Top Management Production Personnel, Operational Personnel, Engineering Personnel, Administrative Personnel, General Managers and Company Supervisors in supply chain including Accounting Personnel.
You can see why I said that to build economy, it should not be left only on the hands of the government alone. Individuals can in one way or the other contribute their own quota. Although the Federal Government needs to encourage indigenous manufacturers so as to input maximum benefits required.