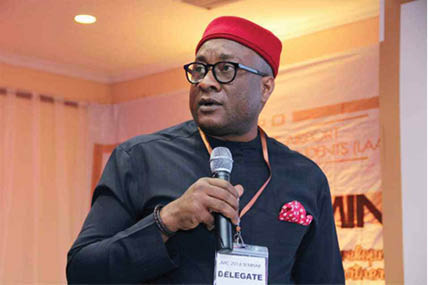 Penultimate Thursday at the Sheraton Hotels and Suite, Ikeja, Lagos, Chairman and Managing Director of Nigeria leading airline, Air Peace, Mr. Allen Onyema Esq. presided over the 22nd Annual Seminar of the League of Airport and Aviation Correspondents (LAAC). Among topical issues discussed at the event attended by dignitaries from within and outside Nigeria included the recently launched National airline for Nigeria. Onyema bare his mind on symbiotic relationship domestic could establish with the national carrier for the growth of Nigeria aviation industry among others. He spoke at the sideline of the event. Excerpts from Suleiman Idris;
Your airline is a leading carrier in the country, what are your views on the newly launched National Carrier, Nigeria Air by the federal government?
Well, the government has launched the National Carrier, I as Air Peace Chairman, why did I go into aviation in the first place? I went into aviation to create jobs. I love touching lives, so if this National Carrier will bring about more job creation in the country, I support it. If this National Carrier is going to improve the lots of our people, I will support it.
However, if this National Carrier is going to disrupt the industry negatively and affect the local airlines negatively then I will not support it.
That is why we are calling for transparency in everything that the government does. If it is private sector driven, I am in the private sector, Bankole of Med View is in the private sector, and Dana is private sector. Overland is private sector, TopBrass is private sector, Arik and so many others.
Now, if the National Carrier is a private driven airline, we support it, I cannot say that there should not be National Carrier, I support National Carrier.
For me not to support National Carrier is tantamount to me not wanting another airline to exist but that is not the issues here. The issue here is that the Nigerian indigenous airlines are saying that we want to be carried along; we want to know how we are going to run this National Carrier.
If they say it is a private sector carrier; that means that it is going to be owned by a private person or private persons. Are you going to give these private persons the privileges of my country which you have not made available to us who are existing? I have acquired four Boeings 777, today, MedView's first Boeing 777 just arrived Nigeria, and we have invested massively. The question is, what is the lots of these private indigenous airlines who have massively invested in acquiring these modern aircraft and equipment. I am sure the National Carrier is not going to acquire five Boeing 777s between now and December.
Now others have acquired it, are they going to come to us to say lets partner?
So, we are not against that but we are asking for a level playing field for everybody because you cannot give the privileges of my country to another private person and neglecting me that I have already being there, then it is not fair. So, we are not against National Carrier, I congratulate federal government for floating another airline, but it has to be open for everybody, it has to be fair to everybody.
What exactly should government put in place to mitigate the challenges face by Nigerian airlines?
The challenges appear legendary. There are so many challenges out there, the VAT issue was just one of them, and there are so many others that are very debilitating and very inhibitive. The government has done well by removing VAT and we appreciate that and we thank the government for doing that. We also expect government to improve first and foremost, the airport infrastructures.
The airport infrastructures are not supportive of our airlines operations not just Air Peace, every other airlines. Once the airport infrastructures are improved upon, airlines will start to get it right.
Operating airlines had in the past mulled the idea of reaching an interlining agreement among themselves, any progress on the talks?
Yes of course, we are discussing as Nigerian domestic airlines. The discussion has being for the past one year; we are trying to see how we can corporate with each other so that we ensure consumer satisfaction. In case you have any plane down, it doesn't mean that the world will come to an end; your brother airline can come to your rescue. Interlining is the way to go in this business, and we are speaking to ourselves, sooner or later, you will hear something from us.
Your gale of connecting cities in the West Africa sub region is quite commendable, what are experiences vis a vis agreement among the countries?
It is not as if Nigerian airlines do not support the Single African Air Transport Market (SAATM), we support it, but it has to be in a level of reciprocity, it should not be one sided. Nigeria should not open its doors unrestricted in the name of open skies while those other countries are not allowing us easy gateway into their countries.
We have a country in West Africa, they do about four or five flights into this country everyday; no single Nigerian airline is going to their country not because we don't want to go there but because, they are making it impossible for us, I mean one of the airlines in West Africa. That country is preventing us from going because when Air Peace went there to set up, what they did was that they slammed us with about $10,000 bill for every landing that you do into the country, you are spending about $10,000, how many people are you carrying on that plane, it is impossible.
They are not getting the same treatment in Nigeria, in Nigeria we are laying red carpet for foreign airlines to rape our economy and that shouldn't be. In the name of open skies, we shouldn't give unrestricted traffic to the foreign airlines because they are not doing the same thing to us.
Togo even wrote me, you know stopping me from coming to Togo, they say because one other Nigerian airline has been given one right to come in meanwhile ASKY of Togo was coming to the country about five times a day until I threatened to go to court, that was when they now gave us permit. But they will wait for you in their countries; they will frustrate you, that is what we have been getting.
The kind of charges that we pay in this country, their own airlines don't pay them and that is against the spirit of IATA, ICAO and all the conventions that you can think of but this is what is happening. So, we have to protect ourselves, I cannot get offices in my own country and foreign airlines are being given offices.
What challenges confront your proposed international operations?
I want to do international in the last two years, I have not been able to be allocated a lounge that can give my Business Class or First Class passengers comfort and tomorrow everybody will be shouting that Nigerian airlines are not performing. Am I being supported, we are not being supported, so we need to support our own, we must start supporting Nigerian indigenous airlines for them to succeed.
We are not asking anybody for money, we are asking for enabling environment for us to operate. I don't see the reason why I should not have a lounge in my own country and foreign airlines are being given preference over me; so these are the things that we are saying.
We support the Single African Air Transport Market (SAATM) but it must come with the right price.