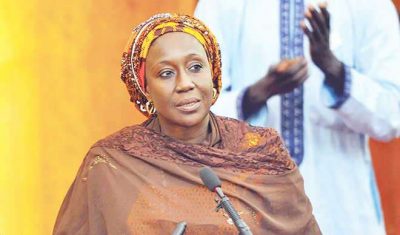 From Abba-Eku Onyeka, Abuja
Honorable Minister of state, Federal Ministry of Trade, Industry and Investment (FMITI), Hajia Aisha Abubakar said that the federal government had concluded all arrangements to come up with a policy tol address problems faced by the practitioners in ceramic industry.
The minister said that the policy would go a long way in ensuring that the economic fortune of the nation was uplifted through the Industry.
This assurance was contained in a release from the office of the minister signed by Deputy Director, Press, Olujimi Oyetomi.
It said the disclosure was made when the President, Dajo Pottery Limited, Livi Yakubu O'Brien, paid a courtesy call on the minster in Abuja.
She said: "We are in the process of evolving needed policy to guide the ceramic sector and we will need the input of persons like you Levi O'Bem Yakubu to ensure that areas which need to be addressed by the coming policy to the advantages of practitioners and our national economic development are taken into consideration."
She further remarked that talents abound in Nigeria who can take every sector of the nation's quest to enviable heights but policies which will drive and encourage such talents were the preoccupation of the government.
She said the present administration of President Muhammad Buhari had not been found wanting in engaging sectors' stakeholders to come up with needed policies, especially those which encourage national economic growth in non-oil sectors as well as generate employment.