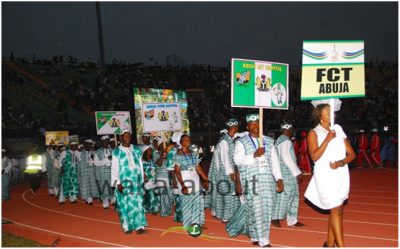 By Amaechi Agbo
The Director, FCT Sports Council, Dilichukwu Onyedinma has assured athletes, stakeholders and participants that the Federal Capital Territory is ready to host the 2018 National Sports festival.
The director who stated this in an interview with our correspondent, described the hosting right granted to the FCT as a thing of joy and further said that though the hosting would come with its challenges in terms of provision of accommodation, feeding and transportation, nevertheless, she gave assurance that her council, in conjunction with the Ministry of Youth and Sports, will work in synergy to ensure a successful hosting.
"It is an interesting development that the tournament will be hosted in FCT but the agreement with the National Sports Council is that the Federal Government will host in the FCT. There is a difference between FCT hosting and FG hosting in the FCT.
"It is a good development because it is going to give opportunity for all our teams to participate. As long as we are host city, no matter who is the sponsor, it means that everybody in the FCT is going to participate; all teams are going to participate and that means we are going to have a large contingents.
"But it will also come with its challenges as we will look for a lot of money to be able to carry the contingents. Sometimes when we travel out and because of transportation, we streamline the number of teams and athletes to travel with. But hosting it this year offers us a great opportunity for us to expose all our athletes to competitions.
On whether FCT is ready to host the festival, Mrs Dilichukwu said "For now, we are participants. We are among the 36 states and the FCT who are expected in the games. We have not yet taken the burden of logistics of the games because the people in the ministry are the ones who are in charge. They should see to the transportation, accommodation, feeding and everything that is required. I know that as a host city, there is no way they will not ask us to co-host at least to show that they are on our ground. But that has not been discussed; we have not shared responsibilities as to what is the host city going to do and what is the federal government, by extension, Ministry of Youth and Sports. We still have a long we to go since the competition is going to come up in November.
"Our problem is that since the last NSF in 2012 in Lagos, we have an award of athletes approved by the minister which has been pending. Because we have not been able to organize the award night which was organized by the ministry of youth and sports, most of our players or athletes drifted to other states. That is why the award night we had recently was necessary because with the incentives the children received, they will able to buy equipment they need in order to help them excel in the tournaments coming up. With that, they will not be thinking of joining other states.
"The FCT sports Council have started acknowledging our athletes which is what the children want. It is not easy to be an athlete; a lot of training go into it and a lot of sweat go out f that child. We are hopeful that with the award night, most of our athletes are going to come back. The coaches will train them teach them and make sure that they win laurels. We are hosting and as the host city, we will make sure we make our mark.
Speaking on the preparedness of the Federal Capital Terrotpry to host the festival in terms of facilities, the director stated "Of course we are ready; what don't we have in the National Stadium in Packages 'A' and 'B'? You go to Package 'A', everything athletics is there. All athletics events and football are there. If you entre Package 'B', you have every game facility there from swimming to hockey, long tennis, table tennis; everything was provided during COJA All African Games in 2003. They were able to put everything on ground. For facilities, Abuja is always ready.
"I tell you one thing, the participants will not be disappointed once the facility is there and in good condition, it is just a matter of upgrading it. Now that it was fixed in November this year, there is no way they will not be renovated before that time. Before November, everything will be in shape. I know that all the facilities we have in FCT are of standard.
Mrs Dilichukwu further said that as host city, her council is not leaving anything to chance as the council is always ready for competitions and will open camp soon for intense preparation ahead of the NSF.
"We are not worried about camping period because we train every day. That is why government employed coaches and secretaries. Between 6 – 8am, if you come secretariat, you will not see the coaches because they are in the field training the children. That is open camping where you don't keep the children in one place. Therefore, we are camping but camping is open as long as we are working in the sports council.
"But for closed camping, you have to look at your resources because it is not easy to bring people together, keep them and feed them. It is resources that will determine how long we can have closed camping but that is not an issue because we train every day. Closed camping helps to create synergy between teams. If you have a team game, you have to bring the athletes together to be able to have coordination within themselves. In as much as we would love to have more time for training in closed camping, we train everyday," she explained.
FCT took 12th position at the 18th National Sports Festival held in Lagos tagged Eko 2012 with 7 gold, 12 silver and 10 bronze medal making a total of 29 medals with 165 contingents of athletes and officials.