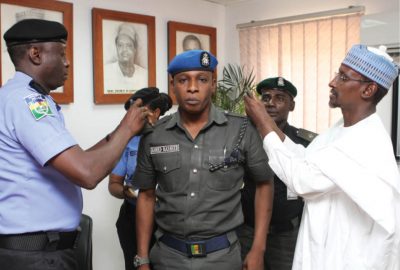 The Minister of the Federal Capital Territory (FCT), Malam Muhammad Musa Bello yesterday decorated his Chief Security Officer (CSO), Rasheed Ahmed with the new rank of Superintendent of Police (SP).
Malam Bello, assisted by the FCT Commissioner of Police, Sadiq Bello, during the brief rank decoration ceremony, which also had in attendance the Police Commissioner, K-9 Division of the Nigerian Police, Dr. Aishatu Abubakar.
He said the decoration is a mark of appreciation for SP Ahmed's hard work as well as a testimonial to the fact that the officer represents the new face of the Nigerian Police Force.
The FCT Minister while congratulating the CSO for the promotion, equally acknowledged the role some senior officers who had supervised him played in training and grooming the young officer through his career and previous elevations until now.
Bello, who described SP Ahmed as a very unassuming, easy going but highly effective intelligence officer, charged him to continue to exhibit such virtues and exemplary qualities for the young ones to emulate.
According to him, "The mark of a senior officer is not what he or she is able to do for himself but the number of people one is able to develop and groom. That is the whole essence of mentorship and leadership.
"I think Abdulrasheed has been very lucky since his Police College days and right through as he grew up in the system under very professional officers, men and women who have groomed him."
The FCT Minister tasked the newly elevated officer to also identify other younger officers to groom, the way he has been mentored. Saying, "That is what we call mentorship and leadership development, and this differentiates those who are managers from those who are just ordinary officers."
Furthermore, the Minister expressed gratitude to the FCT Commissioner of Police as well the Deputy Commissioner for their presence during the promotion ceremony.
He therefore appealed for the consideration of other security personnel that are working under the FCT Administration for elevation during the course of their duty.
SP Ahmed, 35, hails from Adamawa State, a graduate of the Police Academy Wudil, he began his career in the Force at Jalingo Police Command 2010.
He was later posted to the Edo State Police Command where he worked in the Administration and Finance Department of the Command.
He was posted as Chief Security Officer (CSO) to the FCT Minister from the Edo Police Command as an Assistant Superintendent of Police (ASP). In 2016 he rose to the rank of Deputy Superintendent of Police (DSP) from where he rose to his present position as a Superintendent of Police (SP).