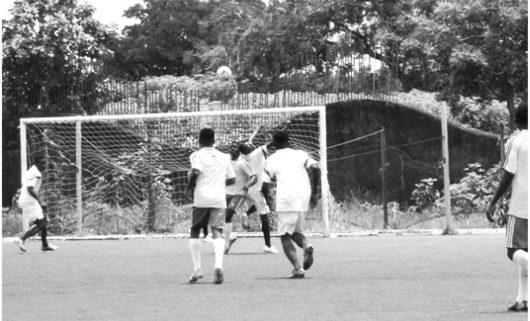 By Amaechi Agbo
The Federal Capital Territory Football Association, FCT FA, on Wednesday released the draws for the 2018 FCT League.
The draw which was held at the Area 3 Playground has 25 clubs spread across five groups ready to slug it out in the league which kicks off on Wednesday next week.
The 2018 FCT Football Association leagues draw was concluded with 25 registered teams in 5 different groups
The league is expected to play four matches each day with the opening matches to start by 10 am. The 2018 FCT League is scheduled to end in November.
Two teams from each group will qualify for the Super League which will be made up of the two best clubs from the five groups and the best two losers. The Super League will be grouped into four groups of three teams each for the finals. The winner of the 2018 FCT League will represent the federal capital in the Division 4 playoff next year.
Speaking in interview, Chairman, Abuja Coaches Association, Godwin Bamgboye, called on the coaches to show high sense of discipline and play by the rules of the game.
"2018 FCT League draw has been released and I am happy that all the coaches were in attendance to witness the draw and ask questions. The league will kick off on the 10 of this month and we expect the best not just from the players but most importantly from the coaches. The players are products of the coaches and most times they display what the coaches tell them and that is why we are emphasising it that the coaches must show a high sense of discipline.
"The FA has introduced the Super League which also means we will have Lower League. The best two teams from each group plus the best two losers will qualify for the Super league while other teams will be relegated to the Lower League. I think this is commendable because it will ensure seriousness and motivate the players to put in their best.
"Apart from that, the overall winner of the league will represent FCT in the Division 4 Playoff. So it is a busy moment for the clubs and we wish them the best," he said.
The FCT League is meant for none-league clubs based in the federal capital. Setraco FC emerged champions of 2017 FCT football league.
Below is the full draw
Group A
Beautiful Tours
Ekimogun FC
FOSLA FC
Flomat FC
Optimum FC
Group B
Winners FC
Fire Service
Premier FC
Winco Foam FC
Thrift Echos FC
Group C
Rising Stars
Catholic Cadet FC
Rhapsody FC
Dunes FC
Abees FC
Group D
Shinning stars
Democrat FC
Family Worship FC
FC Liberty
Future Guarantee FC
Group E
Sun FC
Conqueror FC
Sia One FC
Basic Maracana
Waco FC