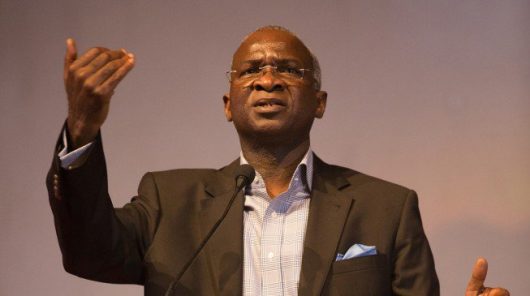 By Mashe Umaru Gwamna
The Minister of Power, Works and Housing, Babatunde Fashola, management and staff of the ministry has congratulated the newly appointed Minister of Environment, Surv. Suleiman Hassan Zarma, who until his appointment by Mr President, was the Minister of State II for Power, Works and Housing.
Fashola eulogized the outgoing Minister of State II for his outstanding performance and display of discretion at which he carried out tasks and assignments within the shortest period he served in the Ministry.
This was contained in a press statement signed by PIO, Housing, Olatunji John for: Director, Information stated the minister in fareware message said "you have done very well here and we wish you very well for what you are going to do in the Ministry of Environment, we will miss you dearly, even though you are leaving us in the ministry, we will not leave you alone.''
He added that the Minister will still be relevant to the Ministry because in building roads, power and housing projects; it will require environmental impact assessment studies, survey planning and social settlements plans.
The Minister stated this at the valedictory session held in honour of Surv. Suleiman Hassan Zarma, who is now a substantive Minister to the Ministry of Environment following his pronouncement and appointment by President Muhammadu Buhari.
Fashola noted Mr President's commitment to the cleaning up of the oil spillage in Ogoni Land for the benefit of the people in that region and the country at large and therefore solicited the cooperation of the Ministry of Environment and the newly appointed Minister to achieve this huge project.
Earlier, the Permanent Secretary, Works and Housing sector, Mohammed Bukar and his counterpart in the Power Sector, Engr. Louis Edozien noted that Surv. Zarma was an embodiment of managerial competence, hardwork and a model to be emulated, adding that his adaptation to work since assumption of duty is amazing and marked with outstanding achievements.
There were good will messages from Directors and Top Management team, attesting and eulogizing the former Minister of State II for his brilliant contributions to the ministry and the nation at large.
In his response, Zarma appreciated the Honorable Minister, Permanent Secretaries, Directors of the Ministry and other Top Management for their kind words.
According to him, ''I have benefited so much from the wealth of experience from Mr Fashola throughout my stay at the ministry,'' adding that the knowledge and experienced gained in the ministry will certainly assist him in his new assignment to bring about the desired impact.
He also thanked the Permanent Secretaries and Directors of the ministry for their loyalty and unwavering support shown to him and prayed for God's guidance in the discharge of duties in everyone's various fields of endeavor.