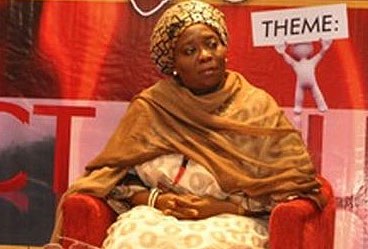 From Femi Oyelola Kaduna
Nigeria's former First Lady, Justice Fati Abubakar has called on the National Assembly to enact a law on genotype testing to address the rising number of sickle cell anemia patients in the country.
She stated this in her address at the 10th year anniversary celebration of the Sickle Cell Patient Health Promotion Centre (SCPHPC), held in Kaduna yesterday.
Justice Abububar who lamented that over 200,000 children are born sicklers every year, said the only way forward is for the National Assembly to rise to the challenge by enacting a law that will ensure that children from primary school go for their genotype test so when they are ready for marriage, they can only marry someone whose genotype matches their own.
"We all know that there is no medical breakthrough for cure of sickle cell anemia and the only way to control it is to check who is getting married to who. If a person with AS marries someone with AS there is an assurance that they may end up producing sicklers. In the same way if someone with SS gets married to AS, we know without any doubt that all their children will turn to out to be sicklers.
"Sometimes people say they have to marry because they love each other. I want to say that if you end up producing children that will suffer all the days of their lives this is nothing but wickedness to them.
"It is compelling to commend the Centre for the extraordinary humanitarian service which it has been rendering over the course of its commitment to the health needs of the carriers in the first decade of existence of the Centre from 2009 to 2018.
"Today is also the launching of the magazine; 'The Hope' which is an aspect of the Centre's sensitization and enlightenment work and the purpose is to raise fund to sustain the charitable activities of the Centre," she said.
Justice Abubakar who was the chairman of the occasion, commended the founder of SCPHPC, Hajiya Baddiya Magaji Inuwa and her team for sustaining the Centre for ten years by providing free routine drugs, counseling and sensitization to the less privileged sickle cell patients in Kaduna and environs.
She called on governments and well-meaning Nigerians to support the Centre by providing routine drugs for the sicklers.
In her own remarks, Founder of SCPHPC, Hajiya Baddiya Inuwa called on other State Governments to follow the footsteps of Kaduna state by enacting a law on premarital test. She said the Centre have about 6,000 registered patients but can only provide for only 3,000 less privileged patients.
Speaking earlier, Chief Launcher of the occasion, Alhaji Yahuza Yashe, said Hajiya Baddiya Magaji Inuwa is fighting a noble course that needs support from people. "Because we are in an era where government cannot do everything and therefore urged Nigerians to donate generously to sustain the Centre," She said.