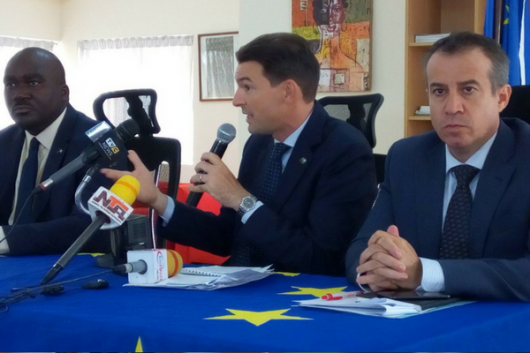 By Lawrence Olaoye Abuja
Foreign investors from Europe are currently in Nigeria to explore investment opportunities in the power, oil and gas sectors.
Chairman of Chrome Oil and Gas, Offor, disclosed this while fielding questions from State House Correspondents at the Presidential Villa in Abuja yesterday.
Sir Emeka Offor alongside former Senate President, Ken Nnamani had led a team of investors from Integra Capital, Argentina to a meeting with the Vice President, Yemi Osinbajo at the Presidential Villa,Abuja.
Offor, said " We brought a team of investors from Europe to meet with the Vice President to explore the investment opportunities in oil, gas, power and electricity."
He said "We brought a major investing g
roup from Europe; that's why we are here; we are looking into investing in oil and gas, electricity power and others.
"They have seen that the atmosphere in the country is conducive for investments; we are exploring the particular investment region we are going to invest."
According to him, they were partnering with ELAND Oil and Gas from the United Kingdom and that the investment will be all encompassing and in billions of dollars.
Meanwhile, President of Integra Capita, Argentina, Jose Luis Manzanita, expressed delight on the conducive investment climate in Nigeria.
He said, "We are very happy being in Nigeria; we like the business atmosphere; there is credibility; we believe Nigeria has material industry but can produce much; we have already invested in Nigeria and we plan to do more.
"We work close to ELAN. ELAN has been very succes
sful; and we support them and we keep investing with them.
The Vice President was so warm and he transmits the trust that the government has in private investment."
Also speaking with State House Correspondents yesterday, former Senate President, Ken Nnamani, advised politicians in the country to strive to own and run businesses aside politics so as not to be desperate for political offices and thereby overheat the polity.
Nnamani, who attributed intrigues in the country ahead of 2019 general elections to the antics of desperate politicians said they unnecessarily overheat the polity because they lack other business concerns to actively engage them outside politics.
The Enugu born politician, currently a chieftain of the All Progressives Congress, APC, said he took part in the meeting between Osinbajo and the foreign firm to observe how the federal government would receive the investors.
He said, "I am here just to observe how receptive the government is to this; the government is quite receptive according to the Vice President; because they have made other investments in Nigeria and they are continuing to do so."
Commenting on the politics, Nnamani said, "I think our problem is that if you enter politics and you have no second address, the chances of your getting in trouble is very high. I am here strictly on business.
They are talking about billions of dollars investment in Nigeria and that tells the confidence his company has in our country.
"I am not just a politician; I was in business before entering politics. So, I have a second address and my suggestion to Nigerians who are struggling in politics is make sure you have a second address; don't be a desperate politician; desperate politicians do desperate things and we can see the examples."