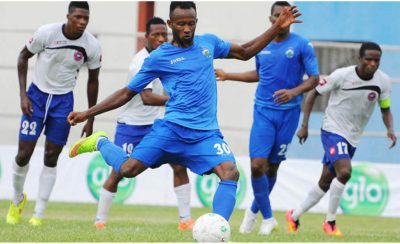 Abia state government has reassured sports enthusiasts of its readiness in promoting sports in the state.
This charge was given during the Governors visit to the Enyimba Stadium yesterday.
Speaking during the inspection of the Enyimba stadium reconstruction project in Aba yesterday, The state governor Dr. Okezie Ikpeazu who was accompanied by the Nigerian Football Federation president Amaju Melvin Pinnick maintained that his administration was bent on delivering a stadium, when completed will stand the taste of time.
He revealed that on their part as government, all monies agreed for the project has been released to the contactor handling the project Mr Ebi Egbe of Moni–Michelle Sports Facility and that the contractor has assured that in less than a month time, the re-grassing on the playing turf will be completed.
''You Can see that I came with NFF President Amaju Pinnick who is also interested in making sure that we have a good stadium for football games, and the contractor Moni-Michelle sports facility as assured that in the next 14 days, the semi-synthetic grass for the re-grassing of the stadium will arrive and the laying will start immediately.
we are going to enter into a sub contract for him to also help clean up the surroundings of the stadium, and that between now and the next 6 weeks, the stadium should be completed''
On his part, the Nigerian football Federation (NFF) president Amaju Pinnick stated that Enyimba Football club remains a brand in African football and that his visit to Abia state is to ensure that the Enyimba stadium gets fixed.
'' I am a son of the state, as my wife hails from Abia state, so automatically, ive got the state at heart and am passionate about what the governor is doing in Abia state.
We also should remember that the Enyimba stadium in Aba gave Nigeria what no other club in the country has giving to the country, after ENYIMBA Fc won the CAF Champions league in 2003 & 2004.
I've taking it very personal in ensuring that the stadium gets completed in no time and it's a good feeling and that what the governor is trying to do is to modernize the stadium to international standard.
Am also here to invite the governor to the upcoming FIFA WORLD CUP, and also reiterating that the super Eagles will perform well at the world cup''.