… Vows to compensate victims
By Stanley Onyekwere
There is a sigh of relief for the victims of the recent violence that trailed the controversial ongoing #EndSARS protests as FCT Minister, Muhammad Musa Bello has promised to compensate them for the property lost in the mayhem.
Bello disclosed the setting up of a Committee to assess the damages caused within the Territory as a result of the violence that rocked the #EndSARS ensure that adequate compensation is given to those affected.
He gave the assurance yesterday when he led the a high-powered delegation consisting of elected and appointed officials, community and religious leaders, for an on-the-spot assessment at trouble spots of Apo mechanic and Dutse-Bwari axis of the Territory.
Among those in the entourage with FCT Minister were FCT Minister of State, Ramatu Aliyu, Senator Philip Aduda, House member Representing AMAC/Bwari constituency, Micha Jiba, Permanent Secretary FCT Administration among other dignitaries.
As expected, the Minister commiserated and pleaded with the traders and other residents to join hand with the FCT Administration in ensuring peace and normalcy return in FCT.
According to him, committee constituted is expected to properly ascertain the level of destruction and come out with the exact amount loss in the course of the incident for compensation.
"We are here to commiserate with you. Already, a team has been setup. Your members will be invited to be part of it so that we can know what was destroyed and how they can be replaced.
"Abuja is our city and we all came here to look for food including yours sincerely the minister. So under no circumstances should we allow people from somewhere to come and disturb us because the moment you destroy anything, it would be difficult to replace it.
"So I am appealing to all of you to live in peace and harmony. I assure that security personnel will protect this place day and night.
"No matter the level of provocation, don't allow anybody to bring disharmony among us," he stressed.
He however expressed joy that calmness has returned to the city and all leaders are now very conscious of their role to bring peace and harmony.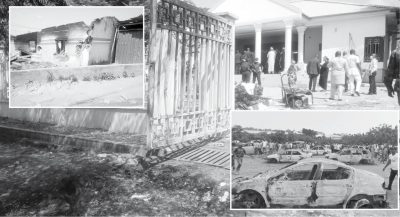 "I have seen the extent of damages and we have set up a Committee to access the damages and are going to work towards ensuring that anyone that have lost something is compensated.
While disclosing that some arrest have been made, he called on all individual to furnish the Police with useful information that will lead to arrest of those who took part in destruction.
Responding on behalf of those affected at Apo Mechanic Village, the Chairman, Apo Traders Association (ATAS), John Chimezie Ife, thanked the Minister for the visit.
Ife, who is also chairman, Abuja Automobile Dealers Association (AATDA) appealed to FCT Administration to provide security to its members, just as he pledged to remain peaceful and law abiding residents of the Territory.
"Thank you for coming to see the extent of damage here. We, the Apo traders didn't join any #EndSARS protest, but it's unfortunate that some people just decided to come here and caused this problem. We are peaceful people and we will continue to maintain peace.
"Since the incident occurred, we have been sleeping there, to protect the place, we stay here from morning till night daily.
"The worth of cars they destroyed is not less two hundred million Naira. There is a mechanic workshop that they entered and set ablaze all the cars there.
"Please we are begging, protect us , we are not troublesome people. Like me, I have been in this Abuja for over 40 years.
"We need help from the government to solve our problem, as we cannot continue in this way, behcause when they have small issue, the next thing we will be the escape goat,; they will jump on, and destroy what we have", he stated.