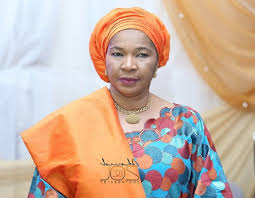 Tuesday Column By VICTORIA NGOZI IKEANO
vikeano@yahoo.co.uk | 08033077519
Since the desired interview with Mr. Governor, the first citizen of Nasarawa state has not materialised, the thought struck me that I could have a chat with the First Lady. The governor let it be known upon assumption of office that his eldest wife is the First Lady. She is Hajia Silifat Abdullahi Sule. So, I put a call to the Director-General (DG) Press and Strategic Communication at Government House on Shendam Road, the amiable Mallam Yakubu Lamai with my fingers crossed. My fingers were crossed because in a previous attempt to interview the immediate past First Lady of Nasarawa State I was told by her then special assistant that the woman could not be pinned down because she was always on the move. I told myself that this would be different this time because the current First Lady is rather new to the job as this is the first time she is assuming such role and more importantly, they are two different personalities altogether. Lammai told me they would get in touch with the governor who was out of the country at the time, to get his consent for the interview. He asked me when I would like to have it, I replied 'anytime, anywhere but not later than the weekend'. He also asked me to send in the questions.
I decided within myself that since our First Lady is new on the block so to speak, I was only going to ask work related questions; that is to say that I would not ask questions related to her private life, rumours or personal information such as, 'what is your husband's favourite food, how did you both meet, how would you assess him as a husband, father', etc., etc. So I decided to make it short and sharp by drafting just six questions. They are: 'Your Excellency, congratulations firstly madam, on your position as the first lady of Nasarawa state. You are the state's fourth First Lady since its creation in 1996. As the mother of Nasarawa state, how would you describe your experiences as First Lady, so far? What do you consider to be the unique thing or things about Nasarawa women? And the challenges facing them? Nigerian First Ladies usually choose a pet project to pursue during their tenure. Have you chosen any? If yes, is there any particular reason why you chose this ma? Ma, on the occasion of Nasarawa state's 23rd anniversary, what message do you have for Nasarawa women? Few days later I was told by the DG that the governor had approved the interview and that he has directed him to allow the senior special assistant (SSA) on special duties to the First Lady, Hajia Sophia Ahmed handle the matter since it is "a women's affair" It is to be on a Sunday. That means I have to be ready from the morning hours as I may be called upon at anytime, I told myself.
Soon enough, Hajia Sophia, a professional broadcaster phoned me to say that Madam has fixed the interview for iftar (after the Muslim afternoon prayers which is about 2 p.m.) at the presidential lodge which apparently serves as the First Lady's office. When it was past 2p.m. and I did not hear from her, I started making some frantic calls to her but I could not get through. I called Lammai to appraise him with the situation and he promised to endeavour linking up with her. Sophia later called asking me to come over. She explained that she had switched off because she was at a meeting. So I took off at about 2.46 p.m. for the venue, asking a colleague to drive me there in his car. We got to the gate at about 3.11 p.m. and had to wait for sometime for the SSA. I was not worried though because I know that as a woman before leaving your house you have to put it in order, providing for the family's needs as you cannot tell when you will be back home. While we were waiting, I saw the deputy governor, Dr. Emmanuel Akabe drive out from another wing of the presidential lodge in a small convoy. 'Does he now reside here', I asked myself. 'Perhaps they are still renovating his official residence', I told to myself. He was followed in tow by the General Manager of the Nasarawa Broadcasting Service who hails from the same Doma town as the number two citizen. "Perhaps they are both going to spend the Sunday in their hometown', I reasoned….
Sophia arrived, led us into the main lodge, ushered us into a sitting room while she went into the inner room to confer with Madam. I could see a Government House photographer in our midst and another media person. She later emerged, asking us to come to the main parlour. Sitting rather quietly on a sofa was the Nasarawa State First Lady, Hajia Silifat Abdullahi Sule. There was no beehive of aides swarming around her. It was as though she was a private citizen in her private house, no fuss. The only thing that gave her away was her personality. Looking at her you would guess rightly that she is Madam, the first Lady. Then a lady of average height came in walked up to the SSA and started speaking in a rather desperate tone with her. The SSA assured her diplomatically that she would be attended to at a later date but not on this day which has been booked for this interview with me. Then the lady approached Her Excellency who was sitting some few feet away knelt down in greeting, uttering a few words. The First Lady listened attentively to her without comments. Then Her Exellency, Hajia Silifat came over to sit on another adjacent sofa, I sitting beside her and we got chatting. I must say she has a warm and friendly character. The Nasarawa state first lady answered my questions with smiles.
How would she describe her tenure as First Lady these past few months? "So far, so good", she replied, adding that the people have been supportive and cooperated with her very well. How is she coping with her new environment? Her Excellency, Hajia Silifat Abdullahi Sule says because of her background, she can fit into wherever she finds herself as she is comfortable in any environment. I can mingle with the rich and the poor, no problem". What about the Nigerian politicians, especially their characteristics? She answers that she is diplomatic with them as one has to be nice to all even though one can sometimes see through them. In response to yet another question, the First Lady states that she renders help wherever she can according to what is available, noting that one cannot meet all of a seeker's needs. She spoke rather passionately about the girl-child, stressing that both male and female children should be treated equally. "The female child should be valued and made to feel just as important as the male child". She is already working on her pet project to be called, 'Silifat Abdullahi Sule Hope Foundation', SAS. A comprehensive project, it aims to tackle issues like drug abuse, girl-child education, women and youths empowerment, among others. Hajia Silifat Abdullahi Sule urges the women and youths not to sell off various empowerment equipment that would be given to them. She considers hard work to be the unique characteristic of the Nasarawa state woman while averring that the challenges facing them are just like those faced by northern Nigerian women. According to her, her husband, Governor Abdullahi Sule's objective is to take Nasarawa state and its people to the next level. "More especially, he wants to teach them how to catch fish, not to give them fish", she affirmed. "The governor has plans for industrialization of the state among other campaign promises. The next level is assured Insha Allahu. Let us be patient with one another, embrace peaceful co-existence and unite, for development cannot take place in the absence of peace", concluded the Nasarawa First Lady. It was a delightful conversation.