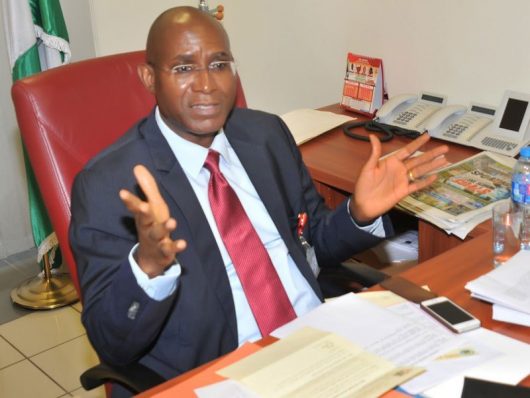 By Lateef Ibrahim, Abuja
The Senator representing Delta Central Senatorial District of Delta State in the National Assembly, Senator Ovie Omo-Agege has described allegation by Olorogun O'tega Emerhor that he plans to kill him as a cheap blackmail.
Towards this end, the Senator has called for a proper investigation into the allegations raised against him by those he alleged to be desperate politicians grasping on unfounded rumours as a blackmail tool.
Senator Omo-Agege equally dismissed the allegation that he bears criminal conviction from a Californian court thereby disqualifying him from holding any political office, described it as a worn-out lie that failed in every election season adding that it will also fail this time.
The clarifications were contained in a statement released in Abuja and signed by Prince Efe Duku for the Office of the Senator.
Omo-Agege, who said that he was only alleged to have broken the law in California, pointed out that he was later found innocent which ensures that he remains an active member of the State of California Bar Association.
The statement reads: "Yesterday, Olorogun O'tega Emerhor petitioned the Inspector-General of Police, IGP, that the Distinguished Senator Ovie Omo-Agege plans to kill him.
"Although Emerhor's petition is a shocking, malicious, wicked and brazen lie calculated to blackmail, embarrass and demean Senator Omo-Agege and smear his reputation, our Senator has nonetheless called for its proper investigation.
"We note that many have reasonably asked why Omo-Agege would ever plan anything against a so-called political opponent who has no electoral value – one who has never won an election in his own polling unit", he said.
On the claim that he bears criminal conviction, he said: "Today, barely 24 hours after Emerhor's wild, wicked, childish and laughable petition became a media show, a new lie, blackmail and campaign of calumny was launched against Senator Omo-Agege.
"The blackmailer wants the world to believe that Omo-Agege bears a criminal conviction from California, USA that legally disqualifies him from the 2019 Delta Central senate race.
"For this, the blackmailer has launched a cowardly proxy legal battle to stop Omo-Agege from returning to the Senate. But then, this is just a rehashed lie from a desperado who is in a hurry to do evil to benefit himself. A worn-out lie that has failed woefully in every election season and will also fail this time.
"Yes, leaders should be held to the highest standard of accountability. The people do not knowingly entrust persons of tainted character with public leadership. A leader mirrors the image of the divine and ought to be as 'clean' as possible. Hence, we wholeheartedly welcome any healthy scrutiny of whoever leads or seeks to lead, including Omo-Agege.
The statement continues: "To this extent, by way of 'fair commentary' only, we will speak to the non-existent criminal conviction knowing that the matter is now in court and therefore subjudice. We will meet the blackmailer in court.
"The fact is, at a point in his brilliant and bright legal career in California, USA, Senator Omo-Agege (then a young attorney) was alleged to have broken the law in California. But in the end, he was found not guilty.
"Accordingly, he was declared innocent by the Honourables Lance A. Ito (who presided over the popular O.J. Simpson murder trial case) and G. Magnera of the Court of California, County of Los Angeles. Omo-Agege had to fight hard for his innocence and God vindicated him against the expectations of evil men like the most sadistic blackmailer in the world.
"Today, he remains an "active" member in "good standing" of the State of California Bar Association – what would be impossible if a valid and subsisting conviction were hanging on him. These are verifiable public facts and truths."
The Senator also said Emerhor was going to far adding that several attempts to defame will fail and the costs will be too much for him to pay.