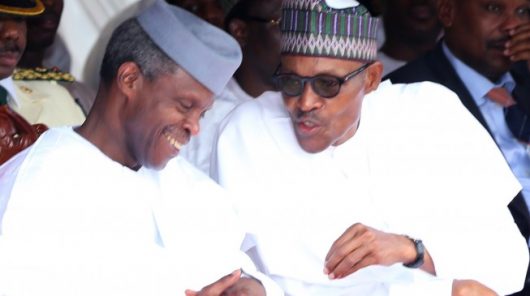 On May 29th, President Muhammmadu Buhari' marked fiive years in office as he completed one year into his second term. In this report, Egena Sunday Ode writes that despite enormous challenges, the President has worked his talk sparing no effort to ensure maximum delivery of his campaign promises.
Election promises have become some sort of rituals in this part of the world. The politicians who make them most often do so just to excite the teeming crowd of voters, knowing that they would never fulfill them. The electorates too have very low expectations that the electioneering promises would be fulfilled. Experiences had thought them to be this pessimistic; it has been countless promises without any concerted efforts to deliver on them as every election cycle comes and goes That was the state of affairs in the nation prior to the 2015 Presidential election.
But it seems like the change mantra of the All Progressives Congress (APC) has really begun to turn things around. President Muhammmadu Buhari has made his words his bond. To demonstrate his seriousness ab initio, he did not place a basketful of promises before Nigerians just to impress his cheering supporters. By he carefully disected the nation's myriad of problems and came up with those he considered most pressing and sine quanon for her continuous survival.
Accordingly, President Buhari promised to concentrate efforts on revitalizing the economy, fighting corruption and frontally combating insecurity that was threatening to dismember the country. But that would be without neglecting other essential areas to the nation's wellbeing. Even despite the gains recorded in these salient areas in his first tenure, the President has insisted that his administration would still give the issues priority attention in his second term. And there is no gainsaying that the administration has given a good account of itself so far.
ECONOMY
President Buhari mounted the saddle in 2015 when the price of crude, Nigeria"s economic mainstay, was at its lowest at the international market. He therefore quickly realized that oil was no longer a dependable revenue source to run the nation's economy going forward, and opted for diversification especially to agriculture.
Swiftly, he launched the Anchor Borrowers Programme (ABP) of the Central Bank of Nigeria on November 17, 2015, which has made available more than 200 billion Naira in funding to more than 1.5 million smallholder farmers of 16 different commodities (Rice, Wheat, Maize, Cotton, Cassava, Poultry, Soy Beans, Groundnut, Fish), cultivating over 1.4 million hectares of farmland.
The ABP has substantially raised local production of rice, doubling the production of paddy as well as milled rice between 2015 and 2019. Between 2016 and 2019, more than 10 new rice mills came on-stream in Nigeria. Many of the existing Mills have expanded their capacity and several new ones are under construction. There has been more than a billion dollars of private sector investments in the production of Rice, Wheat, Sugar, Poultry, Animal Feed, Fertilizers, etc, since 2015.
Also, the Presidential Fertilizer Initiative launched in January 2017, as a Government-to-Government agreement with the Kingdom of Morocco has produced
more than a million metric tonnes of fertilizer since 2017. This translated to the distribution of more than 18 million 50kg bags of NPK fertilizer in the first three years of the PFI, 22 blending plants resuscitated (combined installed capacity of more than 2.5m MT), price reduction from 9,000-11,000 per bag, to 5,500 as well as
Forex savings of $150m annually through the substitution of imported components with locally manufactured ones and
subsidy savings of 50 billion Naira annually.
The President Buhari administration has made quite a number of interventions to boost the MSMEs. For instance, it
launched a series of funding and capacity development initiatives designed to support MSMEs:
the new Development Bank of Nigeria (DBN) has finally taken off, with initial funding of US$1.3 billion (N396.5 billion); to provide medium and long-term loans to MSMEs. Since 2017, the DBN has disbursed a total of N100 billion through the bank's 27 Participating Financial Institutions (PFIs) impacting more than 100,000 MSMEs.
Furthermore, 52% of loans disbursed in 2019 were to youths and women owned businesses, while the Bank of Industry has disbursed more than N400 billion in loans to large, medium, small and micro enterprises since 2016.
It has also established a N5 Billion Fund for Artisanal Miners, as part of the Federal Ministry of Mines and Solid Minerals Development's Programme to boost Mining activities in Nigeria; as well as a $20 million Fund to support young technology entrepreneurs in the country.
There's also the Ease of Doing Business Reform which has seen the work of the Presidential Enabling Business Environment Council (inaugurated by President Buhari in August 2016) and the Enabling Business Environment Secretariat (EBES) result in Nigeria moving up 39 places on the World Bank's Ease of Doing Business rankings since 2016. In the last 3 years Nigeria has twice been adjudged one of 10 Most Improved Economies in the Rankings.
In Debt Management,
Between 2017 and now, Nigeria has issued its first ever Diaspora Bond, in the International Capital Market. The Diaspora Bond was US$300 million with a tenor of 5-years. The proceeds were used to part–finance the 2017 Budget. Also, Sukuk Bond (1st Tranche – 100 billion Naira in 2017; 2nd Tranche of 100 billion Naira in 2018 and 3rd Tranche of 150 billion Naira has just gone on sale in May 2020). The Sukuk Bond proceeds are being used to fund major road projects across the six geopolitical zones of Nigeria. The Buhari Administration has issued Nigeria's first ever Sovereign Green Bonds.
The Buhari administration in the past five years has given tremendous support to the states of the federation most of which were financially overburdened and unable to meet their basic obligations to citizens. One of the most remarkable was Loan Restructuring for Facilities with Commercial Banks: In 2015, the DMO restructured Commercial Bank loans with a total value of N575.516 billion for 23 States to reduce the debt service burden on the states. In exchange for their loans to State Governments, the banks were issued 20-year FGN Bonds at a yield of 14.83% per annum. The Restructuring Exercise benefited the States through the reduction in the monthly debt service burden of States from between 55% to 97% for various States; Interest rate savings for the States ranging from 3% to 9% per annum; longer repayment period for the loans now converted into Bonds; and, freeing up of needed cash to run the machinery of Government.
Having inherited a decaying and abandoned infrastructure, the Buhari Administration has demonstrated a single-minded commitment to upgrading and developing Nigeria's Transport, Power and Health Infrastructure. Three major rail projects inherited from previous administrations have been completed and commissioned: Abuja Metro Rail and the Abuja-Kaduna Rail, and the 327km Itakpe-Ajaokuta-Warri Rail, started in 1987, have been completed in 2020. A fourth Rail Project, the Lagos-Ibadan Rail Project, kicked off in 2017, and is due to be completed in 2020. The tracklaying for the main component of the project was completed in March 2020.
In May 2018, the Federal Government launched the Presidential Infrastructure Development Fund (PIDF), under the management of the Nigerian Sovereign Investment Authority. The PIDF kicked off with seed funding of US$650 million, and has already disbursed funds for three critical road projects: Second Niger Bridge, Lagos-Ibadan Expressway, and the Abuja-Kaduna-Zaria-Kano Expressway.
Besides infrastructure, the Buhari administration is also investing in people through the Social Investment Programme (SIP).
The SIP is the largest and most ambitious social safety net programme in the history of Nigeria, with 12 million direct beneficiaries so far. The SIP consists of N-Power with over 500,000 beneficiaries; Government Enterprise and Empowerment Programme (GEEP) and home grown school feeding.
ANTI-CORRUPTION & TRANSPARENCY
The promise to fight corruption to a standstill, no doubt, created a wave of support for Buhari's campaign in 2015. Nigerians across tribe, religion and social strata were all in unison that corruption was the bane of Nigeria's development. And the President's declaration to stem that tide received a resounding applause. Several policy measures have since been introduced by the President to achieve that lofty ambition.
For example, the new Whistleblowing Policy introduced by the Federal Ministry of Finance in December 2016 has since then yielded several billions of Naira in recoveries from tax evaders and public officials. (In the first two years alone it yielded N7.8 billion, US$378million, and £27,800 in recoveries from public officials targeted by whistleblowers).
Also, the EFCC recovered 794 billion Naira between 2015 and 2019, in addition to hundreds of properties and other assets. ICPC scrutiny of practices, systems and procedures of MDAs' personnel cost from 2017 to 2019, yielded more than 41 billion Naira in recoveries from inflated personnel budgets. In 2019 alone, ICPC recovered 32 billion Naira worth of Land, Buildings and Vehicles and ICPC's audit of Constituency Projects covering 2015 to 2018 helped recover 2 billion Naira of diverted funds and assets.
Unarguably the implementation of the Treasury Single Accoint (TSA) policy remains a master stroke in the Buhari administration's fight against corruption. On August 7, 2015, President Buhari issued a directive to all Ministries, Departments and Agencies (MDAs) to close their accounts with Deposit Money Banks (DMBs) and transfer their balances to the Central Bank of Nigeria on or before 15th September 2015.
The TSA system was launched in 2012, but failed to gain traction until President Buhari's executive order in August 2015. As of May 2018, the TSA system has been implemented in 92 percent of all MDAs. The TSA allows managers of Government's finances, including but not limited to the Ministry of Finance and the Office of the Accountant-General of the Federation, to have, at any point in time, a comprehensive overview of cash flows across the entire Government.
This decision to fully operationalize the Treasury Single Account (TSA) system—a public accounting system that enables the Government to manage its finances (revenues and payments) using a single/unified account, or series of linked accounts domiciled at the Central Bank of Nigeria — has resulted in the consolidation of more than 17,000 bank accounts previously spread across DMBs in the country, and in savings of an average of N4 billion monthly in banking charges.
Considering that personnel costs are the Federal Government's largest expenditure line, the Federal Government has given priority to the deployment of the BVN for payroll and pension audits. The use of BVN to verify payroll entries on the Integrated Personnel Payroll Information System (IPPIS) platform has so far led to the detection of 54,000 fraudulent payroll entries. The Federal Government has also ensured the deployment of BVN system to serve as the verification basis for payments to beneficiaries and vendors in the Anchor Borrowers Programme (ABP), the N-Power Scheme and the Homegrown School Feeding Programme (HGSFP)
SECURITY
In the area of security, it is also thumbs up for the Buhari administration. Nigerians can recall that prior to Buhari's emergence as President in 2015, the nation's security situation was precarious. With Boko Haram insurgents holding over 20 local governments, the Northeast was simply a no go area. But the story has changed as the Nigerian military has put the terrorists where they belong.
Indeed, Nigeria's Law Enforcement Agencies have significantly scaled up their footprint across the country – Operation Whirl Stroke in the North Central, Operation Ex-Swift Response in border areas, several new Forward Operating Bases, Quick Response Wings, Commando Training Schools, and so on, and deployments of Special Forces. The Buhari Administration has rolled out the most significant response to Nigeria's multifaceted security challenges, since 1999.
Unlike the past where the military were fighting the terrorists with bare hands, three has been increased Investments in Arms and Weapons: Government to Government military deals with the Governments of the US, China, Russia, Pakistan, and so on have helped eliminate expensive and opaque middlemen. In April 2020, a first batch of 17 military vehicles (VT-4 main battle tanks, ST-1 wheeled tank destroyers, self-propelled howitzers etc) arrived from China, for the fight against Boko Haram.
Also, the Nigerian Air Force has acquired 22 brand new aircraft since President Buhari assumed office in 2015, and is expecting another 16 (including the 12 Super Tucano currently on order from the United States Government, and due for delivery starting 2021). The NAF is also locally re-activating several previously unserviceable planes.
Again, President Buhari resuscitated the Ministry of Police Affairs in 2019, to oversee the development and implementation of strategies to enhance internal security in Nigeria, approved the recruitment of 10,000 new Police Officers annually and signed into law, in 2019, the Bill establishing the Police Trust Fund, which will significantly improve funding for the Nigeria Police Force.
To address the incessant clash between herdsmen and farmers, the Buhari administration established Operation Whirl Stroke in May 2018, to curtail violence in Benue, Taraba and Nasarawa States. OPWS has recorded remarkable success in tackling armed herders, cultists, kidnappers and bandits in its sphere of operation, and brought tension levels down from the escalated levels seen in 2017/2018.
In the Northeast, the Multi-National Joint Task Force (MNJTF), aimed at combating trans-border crime and the Boko Haram insurgency has been revitalized and that has restored significant level of peace to the region, resulting in the return of full economic and social activities.
CORONAVIRUS RESPONSE
The response of the Buhari administration to the outbreak of the nouveau Coronavirus also known as Covid-19 is also remarkable and has earned commendations from the WHO.
On government's approach to Covid-19, Buhari had said: "In Nigeria, we are taking a two-step approach. First, to protect the lives of our fellow Nigerians and residents living here and second, to preserve the livelihoods of workers and business owners to ensure their families get through this very difficult time in dignity and with hope and peace of mind."
The Federal Government of Nigeria has rolled out several measures and directives on healthcare, border security, and fiscal and monetary policies in response to the pandemic.
Significantly, the President has set up an Economic Sustainability Committee chaired by Vice President Yemi Osinbajo, to develop a comprehensive economic plan to respond to the disruptions and dislocations caused by the COVID-19 pandemic,among other interventions.