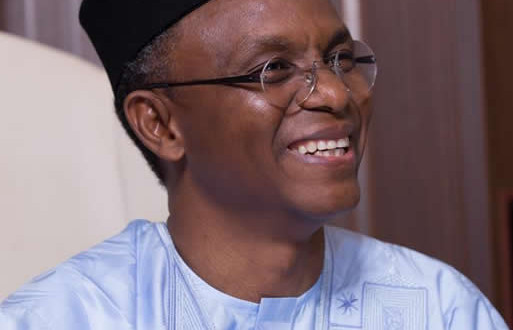 From Mohammed Ibrahim Kaduna
Governor Nasir El-Rufai of Kaduna State has inaugurated a Judicial Commission of Inquiry into the incessant communal crisis in Kajuru, Kachia, Chikun Local Government Areas of the state.
Those inaugurated include Justice Isa Aliyu, who happened to be a judge of Kaduna State High Court as chairman of the commission.
Barrister Edward Andow,a Director of Commercial Law in the Ministry of Justice, is the Secretary ,AVM Abdullahi Shehu (rtd.) a Deputy Defence Attaché at the Nigerian High Commission in London and was later Deputy Commandant of the Nigerian Defence Academy, Kaduna a member.
Others are Mr. B. C. Osuji who served in the Kaduna State Command of the SSS as an Assistant Director, AIG U.U Shehu (rtd.) was a. Former Commissioner of Police in Kaduna State, Mrs. Hannatu Ugah a retired Head of Service, Kaduna State.
Alhaji Auwal Aliyu Damau retired as a Permanent Secretary in the Kaduna State Civil Service, Muhammad Sani Isa, a trained mediator, is a Director in the Interfaith Mediation Centre. Reverend Dr. Yusuf Biniyat is a Senior Pastor of the ECWA Church and was Executive Secretary of the ECWA Kaduna South District Church Council.
Salim Musa Umar is an associate of the Centre for Humanitarian Dialogue and has been active in peace building in Kaduna and Plateau States. Salim and his colleagues were responsible for drafting the Kafanchan Peace Declaration that was signed early in 2016.
Barrister M.I. Aliyu, Director of Citizens Right Department, will serve as Counsel to the Commission.
Rear Admiral Ferguson Bobai (rtd.) was a Flag Officer Commanding Western Navy Command and retired as Chief of Training and Operations at the headquarters of the Nigerian Navy.
The Governor also yesterday swore in the Secretary to the State Government (SSG), Lawal Abbas Balarabe,Deputy Chief of Staff,Barr. James Kanyip, Senior Special Assistants in the state.
The Governor while speaking at the ceremony held in Government House, said there would be a serious work ahead as he called on those sworn in to be ready for the work ahead.
He also reminded them that the goal of his administration is to make Kaduna great again where every Nigerian would be proud to reside or live in.
Governor El'rufai further charged the appointees to join hands with him towards moving the state forward.
He explained that the occasion was a happy moment for him as he described them as another set of public servants.