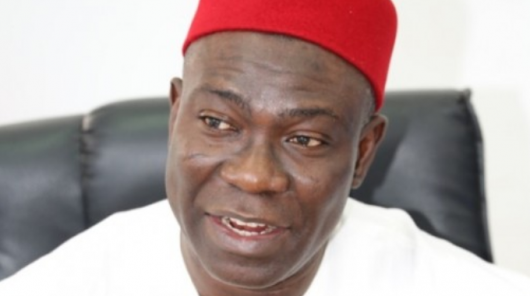 Senator Ike Ekweremadu, the immediate past Deputy President of the Senate, was attacked Saturday, August 17, in Nuremberg, Germany by persons now confirmed as elements of the proscribed Indigenous People of Biafra (IPOB). He was due to give a speech during the 2nd annual Igbo Cultural Festival and Convention 2019. A 64-second video clip of the attack went viral on the social media earlier that day. Ekweremadu himself would confirm it later in a statement by his media spokesman.
This was Ekeremadu's explanation of what happened: "I attended the Second Annual Cultural Festival and Convention organized by Ndi-Igbo Germany in Nurnberg today where I was billed to give a keynote address along with the President-General of Ohanaeze Ndigbo, Chief Nnia Nwodo, who, however, could not make it eventually. I was given a resounding welcome by Ndigbo in Germany and everything went smoothly until some men, who identified themselves as IPOB members, stormed the venue and began to complain about the killings in the South East, stressing that there would be no Igbo event at the venue. I tried to engage them, but when they became unruly, I had to leave the venue. The organizers also invited the police and I was accompanied out of the venue.
"Much as I am disappointed in their conduct, especially as I am one of the persons, who have spoken up on justice for Ndigbo, the Python Dance, judicial killings in Igbo land and elsewhere both on the floor of the Senate and in my written and personal engagements with the Presidency and the media as well as rallied the southeast Senate Caucus to secure Mazi Nnamdi Kanu's release, with Senator Enyinnaya Abaribe taking him on bail to douse tension in the South East, I nevertheless do not hold this to the heart against them, for they know not what they do. I have received thousands of solidarity calls and messages from well-meaning Ndigbo. I want to assure them that I am hale and hearty. I have also spoken with the Nigerian Ambassador to Germany, Ambassador Yusuf Tuggar."
We condemn in very strong terms that unprovoked physical attack on not just an ordinary Nigerian, but a serving Nigerian senator, representing the face of our country, on a foreign land. The immensity of the attack is brought powerfully home by the fact that it was carried out by Nigerians. However, we commend Ndi-Igbo in Germany for quickly distancing itself from the attack on Ekweremadu. In a statement three days after the attack, it said "Ndi-Igbo Germany wish to offer our unequivocal apology to our special guest of honour, Senator Ike Ekweremadu, for the unfortunate treatment misdirected at him by members of Indigenous People of Biafra…
"It must be emphasised that Senator Ekweremadu had nothing personal to gain in attending our cultural day. Rather Igbo residents in Germany lost an opportunity to tap into his reservoir of knowledge. No words can describe our shock, our consternation, and our sadness at this inexcusable, shameful and senseless attack. We apologise from the depths of our hearts that you had to experience such a horrible thing in our midst."
We also praise the tenacity of the Nigerian ambassador to Germany, Mr. Yusuf Tuggar, who stood his ground that the German police investigate the attack after their initial reluctance to do so. It is not clear whether Ekweremadu informed him of his presence in Germany. But when the senator eventually told him of the attack Tuggar stepped in to take up the matter with the German government. He has done well. It is now left for the German authorities to do their part. It is good to know that the police have identified the assailants. We demand the harshest penalty German laws prescribe for offences of this nature.
One lesson to draw from this sad experience of Ekweremadu: Nigerian government officials visiting foreign lands, even if in their private capacities, should make their visits known to the host governments and the Nigerian embassies there. This, if not for anything, is to ensure they receive adequate security during their stay. The Nuremberg attack has one positive, for lack of a better word. It is that the eyes of those who, until now, had refused to accept that IPOB was a terrorist group, are wide open. They now see it for what it truly is.