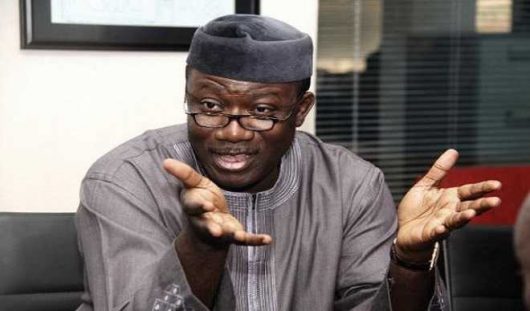 From Ayodele Samuel, Lagos
In the final leg of his campaign visits across Ekiti State, the governorship candidate of the All Progressives Congress (APC), Dr Kayode Fayemi, addressed rallies in Oye Local Government with the message to reject PDP's continuity agenda to sustain poverty.
A statement by Director, Media and Publicity of the Kayode Campaign Organisation, Wole Olujobi, said Fayemi was accompanied by the deputy governorship candidate, Otunba Bisi Egbeyemi; State Chairman of APC, Jide Awe; Publicity Secretary, Taiwo Olatunbosun, former Speaker Adewale Omirin, Senator Ayo Arise and Dayo Adeyeye, among other leaders, who were joined on the campaign trail by Senator Tayo Alasoadura from Ondo State, to visit the communities.
Fayemi and party leaders told voters that July 14 offered best opportunity to reverse the misfortunes into which they had been forced in the last three years.
They all urged voters to reject PDP's continuity agenda to perpetuate poverty.
The APC candidate assured voters that all his empowerment and development schemes that Governor Ayodele Fayose cancelled will return if he wins the election.
He urged voters to vote for APC for their liberty and regular payment of salary, even as he assured that the Youth in Commercial Agriculture Development (YCAD), social security, scholarship, free education, and free health for the elderly will be resuscitated to protect the poor.
Fayemi regretted that since he left the office as governor, no single development project had come to the local government.
He debunked propaganda that he will sack teachers and local government workers, assuring that besides allowing them to keep their jobs, he will create conditions that will allow them to work in a conducive environment, including regular payment of their salary.
"Why will I sack teachers when they have not offended me? Instead of sacking teachers or any category of workers, I will develop employment strategies that will create more jobs for the people.
"I was the first in this state to pay core subjects and rural posting allowances, including payment of fattest Christmas bonus to workers and I increased teachers' salary three times within four years.
"We will continue in this direction to secure our people from poverty and disease," he said.
He urged residents to vote against continuity of poverty, hunger and suffering, saying that he had records of achievements in promoting education, paying for public school fees, appointment of 2,000 fresh teachers, including payment of core subjects and rural posting allowances, all of which had been cancelled by Fayose.
He said his records of performance in health sector are contained in the records of the World Health Organisation and listed rehabilitation and equipping of health institutions with facilities to deliver quality health services as part of his health delivery system.
At Isan-Ekiti country home of Fayemi, huge crowds of exciting residents gathered at the entry point of the town to give the home-boy a rousing welcome.
Fayemi thanked the residents for their support at all times.
An old woman, who presented a goat to Fayemi in appreciation as a beneficiary of the APC candidate's social security scheme, thanked Fayemi for giving her life and hope when she was in the most difficult time of her life, explaining that she saved Fayemi's monthly stipends to finance a trade that restored her hope of living.
Fayemi said he was motivated to come back to the governorship seat to rekindle hope for survival among the poor, citing the woman that gave testimony on the sufferings she had endured since Fayose assumed office in 2014.
He condemned Fayose for cancelling empowerment schemes that support the weak, asking: "How can a man who relishes in mass suffering be a friend of the masses"?
He said in any of the 133 communities visited, including Afao-Ekiti country home of Fayose, there was no town he could not point to at least four projects he executed in those communities.
The visits were also characterised by massive defections of PDP members to APC.
At Osin-Ekiti Ekit, where scores of PDP members defected to APC, they said they were joining APC because the party represented light that can brighten their future.