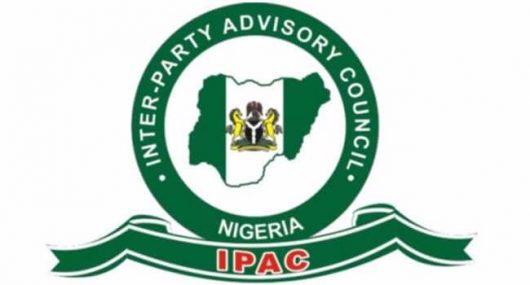 By Ikechukwu Okaforadi
Inter Party Advisory Council (IPAC) has emphasized the need for political leaders to shun selfish quest for power, but to unite over the sustenance of Project Nigeria by ensuring that the country remains stronger and more united during and after the 2019 general elections.
The Chairman of IPAC, Muhammad Lawal Nalado, made this advocacy in a sallah message he gave to Nigerians in Abuja, to mark this year's Eid-el-Kabir, where he pointed out the needs for political stakeholders to play by the rules of the game by avoiding the tendencies to will at all cost.
"This Eid-el-Kabir offers us another opportunity to pray for peace and unity of Nigeria, as the 2019 general elections approach, we owe it a duty as political leaders and citizens, to work in the direction of promoting free and fair elections, in which the trustworthy leaders will emerge to lead country.
"Nigeria is again at a critical stage in her democratic journey, therefore as muslim umah, we must seize the opportunity of this year's Arafat to pray to Allah for a sustainable and peaceful general election next year, and also for economic and social development of the country", Nalado said.
He added that IPAC, being the umbrella body of all the political parties registered by the Independent National Electoral Commission (INEC), the body will continue to engage in advocacy campaign aimed at ensuring that the democratic governance in Nigeria is sustained.
The IPAC boss, while welcoming on board the twenty three newly registered political parties, reiterated the need for leaders of political parties to enthrone internal party democracy in choosing their candidates for elective posts, as he said this is one sure way to sustain peace and confidence of party members.
"Our country is passing through a difficult stage of national development, this is as a result of economic challenges, rising insecurity and threat to our corporate existence as a nation resulting from uncertain political atmosphere due to actions of some selfish politicians.
"It is therefore not only advisable but necessary that we offer prayers for our nation to overcome these challenges, and we as citizens should rededicate ourselves to the service of our country", he said, pointing out that praying for the nation is akin to praying for the actualization of one's individual needs and aspirations.
Nevertheless, he charged Nigerians, irrespective of their fate, to continue to tolerate the religious and cultural differences of one another, and to continue to live in peace with each other, urging them to pray for their leaders that God will give them the wisdom and good health to administer the country.