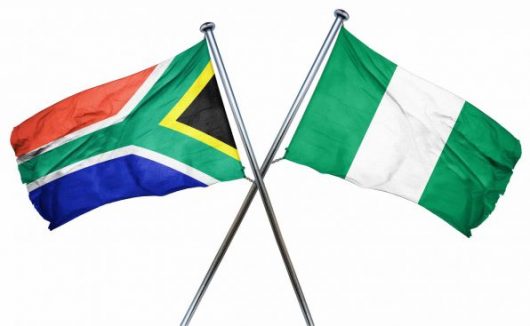 Nigeria's response to last week's xenophobic attacks on the businesses and persons of Nigerians and other Africans resident in South Africa was quick and unequivocal. No more the timid 'understanding' of the past. The government in Abuja would no longer stomach attacks on Nigerians in that country. Short of cutting all ties with South Africa, President Muhammadu Buhari gave a note of warning that doing so was not a distant possibility. He stopped Vice-President Yemi Osinbajo who had been billed to represent him at the ongoing World Economic Forum's conference on Africa from attending. At the same time, he dispatched an emissary to Pretoria to hold talks with South African President Cyril Ramaphosa. Compensation for Nigerians' losses would be demanded. To ensure their safety in South Africa, the government has asked for elements of the Nigerian police to be embedded in that country's security forces.
Back at home, the federal government took measures to protect South African investments in Nigeria. These include the telecommunication giant, MTN, digital television network, DStv and Shoprite malls in Lagos and Abuja. The government reasoned rightly that two wrongs do not make a right. To be sure, there were reprisals here and there but to the extent of the mayhem caught on camera in South Africa.
Nigeria's strong-arm reaction correctly mirrored the anger of Nigerians who felt unrewarded by a sister African country for the huge contributions Nigeria made towards South Africa's liberation struggle. Not only that, the attacks have come to assume a peculiar. The waves of xenophobia began in 2008 and peaked in April 2015. That month, youth in the Alexandria area of Durban poured onto the streets, seeking out immigrants from specially Nigeria, Malawi, Zimbabwe and Somalia. They set on those who ran into the club-wielding madding crowd and clobbered them to death. From the streets, the assailants went to the homes of the immigrants and their businesses which they plundered. Cameras captured young men making away with goods from shops they had looted. A particularly heart rending footage showed an immigrant trying to rise to his feet after three South African youth had attacked him and left him for dead. A white cameraman tried unsuccessfully to get help for the victim. He died.
The story at that time was that the call for immigrants to be sent back 'home' came from the Zulu king. His reason was that they were taking away the jobs, girlfriends and wives of South African blacks. But one thing he failed to realize was that the bush fire, having been lit, would not be stoppable. His later appeal for caution came too late. The damage was already done. And so was the South African government's weak attempt to stop last week's attacks. We condemn this tacit official encouragement of zenophobic rage against immigrants doing legal business in South Africa. We said it then in our editorial of April 23 2015 which ran thus: The (Zulu) king's conduct is typical of the traditional and political establishments in South Africa. On camera, they condemn xenophobia but off camera they stoke the fire. This double standard serves to protect their power and entrenched privileges. And they are supported by the military and the police. One instance will suffice. Since the 2008 xenophobic attacked of 2008, which killed over 40 immigrants, several local groups have formed to protect immigrants. They work with an organisation formed by the immigrants themselves. Together, they try to hold rallies to tell black South Africans that their enemy is not immigrants but their newest political leaders who are the sole beneficiaries of the black liberation struggle.
However, the sensitization rallies do not go down well with the police authorities, working, of course, at the behest of the political establishment. Often they would break up the rallies and allow xenophobics to hold simultaneous rallies at either the same venue or somewhere nearby. Not only, this, on several occasions, those South Africans working to protect immigrants and their businesses have been told to stop or they would be attacked and possibly killed. We salute the courage of those groups that have vowed to carry on nonetheless. At the same time, we condemn the hypocrisy of that country's political leadership."
That was Peoples Daily's position then and is so even now. However, we have a word of advice for sister African governments. They should work harder to create an economic atmosphere conducive to keep our young men engaged productively at home. It is the lack of this that is forcing our youth to seek greener pastures where they believe they will find one.