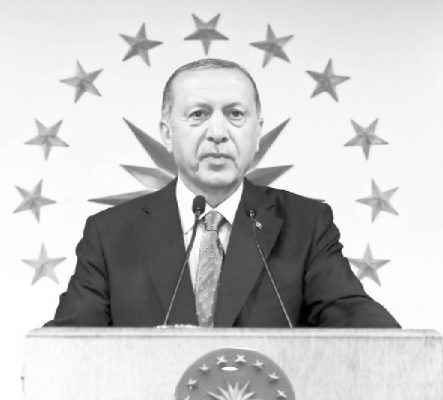 BY Charles Onunaiju
African affairs occupied a secondary status in Turkish foreign policy until very recently. However, following the adoption of the Action Plan for Opening up to Africa in the late 1990s, Turkish politicians started to assign a higher priority to relations with African countries. The incumbent Turkish government now attaches great importance to developing long-term relations with those countries. We can also see that Africa's image in Turkey is changing with journalists presenting new narratives about the continent and supporting Turkish involvement in African affairs. There is also an increasing interest in African studies in the academia, although scholarly work produced on African issues remains limited.
This study explores the evolution of Turkish-African relations and concentrates mostly on Turkey's economic engagement in African countries. It also seeks to analyse recent Turkish initiatives in Africa's energy sector. The article argues, among other things, that although the low level of attention paid to African issues has changed, the pace of the development of relations with Africa is still slow and more steps have to be taken to further improve relations with African countries. For many years, Turkish foreign policy gave very low priority to engagement with African countries. Instead, following the establishment of the Turkish Republic in 1923, successive Turkish governments focused on developing political, economic and military relations with the Western world and neighbouring regions.
One can also see a higher level of attention being paid to the importance of Africa in the public statements of various senior politicians, including the current President and former Prime Minister, Recep Tayyip Erdogan. Speaking at the 8th African were under colonial rule then; hence they did not register in Turkish foreign policy priorities. Even during the early years of decolonization, Turkey still could not develop relations with those countries. The Cold War dynamics compelled the Turkish government to align itself with the West, thereby emphasizing Turkey's role in the US-led Western bloc.
During this period, alliance with Western countries was considered one of the main pillars of Turkish foreign policy. Indeed, Turkey paid such special attention to its relations with Western countries that its attitude at the historic Asian-African Conference of 1955 – also known as the Bandung Conference – caused the Turkish government to be defined as "the spokesman of American imperialism".1 For example, Turkey's representative at the meeting, Minister of Foreign Affairs, Fatin Rüstü Zorlu, warned Asian-African leaders against the "dangers of nonalignment" and emphasized the benefits of aligning with the Western world. Turkey also sided with its NATO allies during the Suez Crisis, joined the Baghdad Pact (seen by Arab and Northern African states as a vehicle of US expansionism in the Middle East) and abstained from voting for Algerian independence in the United Nations (UN).2 On the other hand, Turkey, historically, has had close relations with the North African countries dating back to the Ottoman Empire, which had a presence in most of North Africa, as well as some parts of the Horn of Africa (especially Ethiopia and Somalia).
Having been under the Ottoman rule for centuries, the North African countries shared a common history, religion, and traditions with the Ottoman Empire and its successor, the Turkish Republic. One can easily see the impact of this legacy, along with an emphasis on the Ottoman Empire's noncolonial record, on the continent.3 However, Turkey only began to engage 2017 sub-Saharan African (SSA) countries by starting diplomatic relations with many of them in the late 1960s and 1970s. For example, it provided foreign aid to a few African countries, such as Namibia, Rhodesia, Zimbabwe, and Eritrea; signed mutual trade and cooperation agreements, such as the Economic and Technical Cooperation Agreements with Sierra Leone and Somalia; and carried out official visits to some African countries, including Ethiopia, Tunisia and Egypt during the 1970s and early 1980s.4 However, the independence struggles of those countries, together with Turkey's lack of financial resources and political disinterest impeded further development of relations with African countries during this period.
This active foreign policy attitude of the 1970s continued during the 1980s and early 1990s under the leadership of Turgut Özal, who sought to liberalize the Turkish economy. During this period, Turkey approached the Middle Eastern countries, as well as the newly independent states in Central Asia, South Caucasia, and the Balkans, seeking to develop collaboration with them. It was also during this period that Turkey's membership was rejected by the European Union in 1989. However, Turkey's aspiration to create a Turkish community and become its leader was not embraced by the newly independent Union Summit held in Addis Ababa in January 2007, Erdoðan declared that "Africa is the centre of our common future. The success of Africa will be a success for all humanity" This is even as the former President, Abdullah Gül, has argued that the Turkish government, which had always demonstrated "an unrequited love" for Africa, should adopt a different foreign policy approach to the region than that taken by the European powers.
This policy is based on equal partnership and includes investing in, bringing new technology into and introducing better qualified manpower to African countries, rather than simply pursuing Turkish interests .Following the First Ministerial Review Conference of Turkey-Africa Cooperation held in Istanbul in December 2011, the then Minister of Foreign Affairs, and previous Prime Minister, Ahmet Davutoglu, also predicted that the 21st century will be Africa's century and that, as an African himself, he was "proud of Africa's rise" .
Such an emphasis on win-win relationships, mutual interests and cooperation can be observed in nearly every public speech of Turkish officials about Africa. Turkey's Role and The Action Plan covered various political, diplomatic, economic, educational and social measures (Hazar, 2012: 8), requiring in particular a detailed examination of economic measures taken to help improve relations with African countries. As Özkan notes, diversifying economic relations was one of the major motivations for Turkey's recent involvement in Africa, so economic measures have a central place in the Opening Up policy.
These include signing economic, technical and scientific cooperation agreements with African countries, inviting the ministers responsible for the economy, commerce, industry, agriculture, education and health and African experts on technical education programmes. Other measures included coordinating technical assistance programmes for African countries, becoming a non-regional member of the African Development Bank and the African Export-Import Bank (Afreximbank), promoting mutual investment and business visits, and establishing business councils or joint chambers of commerce.
Here, it should be noted that this "conservative bourgeoisie" emerged in the 1980s and created its own business associations in order to explore new market opportunities provided by an important segment of the incumbent AKP's electoral support base . Central Asian countries.5 Having lost its strategic importance to the Western world after the Cold War and being denied membership of the European Union (EU), following the EU's decision at the 1997 Luxembourg Summit, the Turkish government decided to pursue a multidimensional foreign policy rather than solely aligning itself with the West. In its search for foreign policy alternatives by playing a more dynamic and constructive role in world politics in the post-Cold War period, Turkey adopted its Opening to Africa Policy in 1998 when Ýsmail Cem was the Minister of Foreign Affairs.