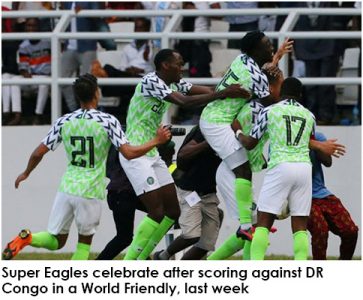 …begs Buhari for prompt release of budget.
The Minister of Youth and Sports, Barrister Solomon Dalung has hailed the Super Eagles despite their 1-2 loss to Three Lions of England in a pre-World Cup friendly game played at the Wembley Stadium over the weekend.
Barrister said after the game that he was impressed with the performance of the team though there was room for improvement.
"I am pleased with the team's build- up to the World Cup. I am really satisfied with their performance though their take-off against England wasn't quite encouraging but the 'Nigerian' in them was brought to the fore in the second half and they unfolded what they have in the kitty for Russia.
"I think it was an issue of trying to put their house in order before the World Cup. This friendly also had in attendance football supporters from all over the United Kingdom, Nigeria and elsewhere and it afforded them the opportunity of having a World Cup environment. All these are experiences that they will take to Russia".
The Minister also reassured the Super Eagles of government's support before and during the World Cup.
"On the part of the federal government, we have done the needy because the President has been able to discharge his obligations which he committed to the players and that is that the federal government will give every support needed to the team right from qualification period to the World Cup proper.
"We don't have any problem of funding and we have no problem at all which was common in the past to this caliber of preparation. This is the first time that the players are going to the World Cup without issues. Everything that needs to be done has been done. The players are moving into camp to re-strategize and we are confident that the players will represent the country very well in Russia," Dalung assured.