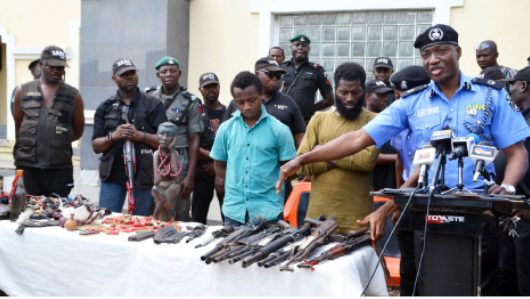 From Ahmad Ibrahim Lokoja
There was a drama at the Senior Magistrate Court 2 Lokoja yesterday when the two accused persons who allegedly implicated Senator Dino Melaye in the case of illegal possession of firearms, Kabiru Saidu otherwise known as Osama and Nuhu Salisu also known as Small vehemently denied committing offences for which they are being charged.
The police had dragged the three defendants to court in Lokoja on the 3rd of May, this year, slamming a seven- count charge bordering on conspiracy, illegal dealing in firearms among others.
When the matter came up for hearing yesterday, the prosecution, Chief Alex Izinyon, SAN urged the court to take the pleas of the two defendants, the alleged accomplices of the third defendant, Senator Dino Melaye.
While citing section 354 (8) of the Administration of Criminal Justice Law of the state to fortify his case, Izinyon further hinged his assertion on the fact that the court has jurisdiction to entertain the matter.
The counsel for the third defendant, Barr. Yemi Mohammed said they have no objection to that and subsequently agreed that the pleas of the first and second defendants be taken, since the pleas were not taken during their first appearance in court.
However, when the charges were read before them and translated in the language they understood, the first and second defendants, Kabiru Saidu and Nuhu Salisu denied committing the offences for which they were being charged, describing the allegations as completely false.
Subsequently the prosecution counsel, Izinyon moved an oral application that would enable the deposition of the witnesses forwarded to He defence, where the deponent would attend court to do same, and thereafter be cross examined, saying such steps would lead to the speedy conclusion of the case.
But counsel to the third defendant, Barr. Yemi Mohammed opposed the application, insisting that the case involves a Senator of the Federal Republic, and as such every procedure in the trial must be seen to be transparent, so that at the end pf the day justice would be seen to have been done to all parties.
Ruling on the matter, the trial judge, Senior Magistrate Sulyman Abdullah said in complying with the administration of criminal justice law to ensure speedy trial of the matter, there is need for him to also look at the rules of the court.
He held that while he has to look at the submissions of all the parties in the matter to ensure justice and fairness, he is however not comfortable with sworn depositions replacing oral testimonies of witnesses, and subsequently refused the application of the prosecution.
The trial judge opined that he wants the trial to be conducted like the way any normal trial is done, stressing that he was prepared to take evidence day by day if the need arises, even as he subsequently adjourned the case to the 26th of July, this year for commencement of trial.