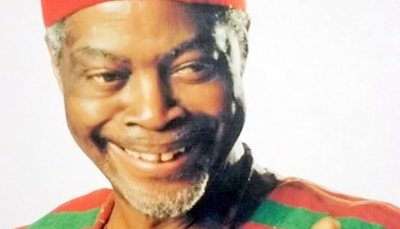 Monday Column By Emmanuel Yawe
royawe@yahoo.com | 08024565402
I first met Dr Chuba Okadigbo one-on-one in 1982 while he was serving President Shehu Shagari as a political Adviser. I and Mike Reis were detailed by the New Nigerian, a strong newspaper based in Kaduna, to cover the first ever independence celebration to be performed by a Nigerian President in Abuja.
While in Abuja we interviewed some newsmakers we could reach. Dr Chuba Okadigbo was one of the President's men we were lucky to have granted us audience. An outspoken grammarian who was deep in political philosophy, we asked him about the Presidents reaction to the demands of Abuja indigenes that he should turn the Federal Capital Territory into a state so that they did not end up 'stateless Nigerians' because their land had been seized by military might and donated to the federal government.
"The President will not repeat such profound act of historical stupidity", Chuba fired back. He said Abuja was created because of the problems Lagos posed as a dual capital to Lagos state and the federal republic. In the process, Lagos became not only over congested but Lagosians considered it their land and therefore saw other Nigerians as foreigners in a city that ought to consider every Nigerian as having equal rights as indigenes.
"In any case young men, did you not listen to or read the broadcast of General Murtala Mohammed when he created states and Abuja in 1976? In that broadcast, he made it clear that Abuja as a capital city, centrally located on a fresh land and not controlled by any of the major ethnic groups will become a tonic for National unity," Chuba reminded us.
Whether Shehu Shagari, the President took the advice of this his young, brash adviser seriously, me and Mike Reis did not know. What we know is when the New Nigerian published the interview the indigenes of Abuja became very angry not only with Okadigbo but also with the man who gave him the chance to serve as Presidential adviser – Shehu Shagari. They in fact intensified their demand for Abuja to turn to a state which has not abated up till date.
In the media, they expressed anger not so much of the fact that Okadigbo had written off their legitimate demands but the words he used to describe them. These demands were voiced out by no less a person than Alhaji Ibrahim Dodo, then Emir of Suleja to the same duo of New Nigerian reporters and published a few days earlier. In the northern part of Nigeria, it is heresy to declare a demand backed by an Emir, no matter how outlandish it may be as a "profound act of historical stupidity". As long as the people with such ideas were concerned, Okadigo ought to be fired from his office.
But Shehu Shagari was a man who was never rushed. He took his time to take decisions, even if it meant taking a blame that was not his own. Eventually when about a year after Okadigbo's interview with us the 1983 elections were held and Zik of Africa reacted angrily to the results, Okadigo described his reactions as the "ranting of an ant", the decision was made. Okadigbo was persona non grata. He did not feature in the list of Shagari's men in October 1983.
Okadigbo left Nigeria on self-exile and soon after. On 31st December 1983, the military struck and the Generals took over power. He returned much later to participate in General Babangida's transition programme in which he won a Senatorial seat and tried unsuccessfully to be Senate President. In the transition that led to a return to democracy in 1999, he also won a seat in the Senate.
That is when we met again after so many years for another one-on-one interview. The military handed over power and the office of President of the Federal Republic in that year to one of their own, General Olusegun Obasanjo. A military dictator of Nigeria in past years, Obasanjo had little patience for democratic nuances. He moved against the ambition of Chuba Okadigbo to be President of Senate when the PDP Senate caucus of the Senate, a party to which he and Okadigbo belonged unanimously backed it. This was inexplicable. Even Senator Zwingina who was energetically leading the campaign in the Senate for Okadigbo backed out. He told me after Okadigbo lost that he withdrew because the dirt smeared on Okadigbo, evidently sprayed from the Presidency headed by General Obasanjo, he knew Okadigbo's ambition was doomed.
Soon after, I started stalking Okadigbo. I was then founding Editor of Crystal International newsmagazine, a glossy publication which was out only once in June of that year. He had not yet seen the magazine. But his political ally Senator Aluko had seen it urged him to talk to me saying it was a beautiful, excellently produced magazine. I reminded him of our encounters during the Shagari days. A man of great memory, he remembered. The interview was soon on.
Surprisingly, he refused to blame Obasanjo when all accusing fingers were pointed at the General. He rather turned to history and philosophy. In 1979 a similar betrayal (what he preferred to call a 'turn around' happened) just before Shehu Shagari's government took off. He had now developed a thick skin he said.
"My friend J.S. Tarka told me he was a Ph. D. holder, a graduate of the University of the Street. He told me when such things happen to you don't go about asking who did it. You may not find the people who did it. In fact you may find the wrong people and make more enemies for yourself. …J. S. told me more. In this game of politics he said, if you are stabbed at the back, you don't turn around to ask who stabbed you. The people who stabbed you may turn around to stab you in the face. When you are stabbed at the back, just keep going."
What is the relationship between this interview, published twenty years ago and contemporary Nigeria? It is Okadigbos comments on what the relationship the President / Commander in Chief should develop between the military, the Senate and the electorate that concerns me. In those days, Obasanjo had embarked on a massive purge of the military, sacking mostly northern officers who had held political offices during the long stay of the military in power. Many northern lawmakers were calling for his impeachment. What was Okadigbos opinion on this?
"The Constitution vests on the President the powers of the Commander – in – Chief of the Armed Forces. You also know that the President is a full General and he knows the armed forces and we were fully conscious of that reality before we voted for him. So those of us who are not experts in military matters should really be circumspect in criticizing the Commander –in – Chief over such matters."
Since the same Constitution grants the legislature supervisory role over all departments of government, I asked him if the legislature was consulted before Obasanjos mass purge of the military.
"There was no need at all. In fact a Commander – in – Chief who will be coming to Senate to ask about how many army corporals he should sack should himself be sacked. He is certainly unfit for the job."
Today the President Muhammadu Buhari, is facing strident calls from Nigerians and legislators to sack some of his generals. Given the fact that Okadigbo once contested elections with Buhari as his Vice President, what would be his advice to Buhari today? Will it be same as he gave in 1999 when his inveterate political opponent, also a retired General and former tyrannical Head of State was in power?
I asked myself that question several times until I discovered that with Okadigbo, the philosopher King long dead, I was wasting my time. This would have been time for another one-on-one. Oh how I miss Okadigbo.