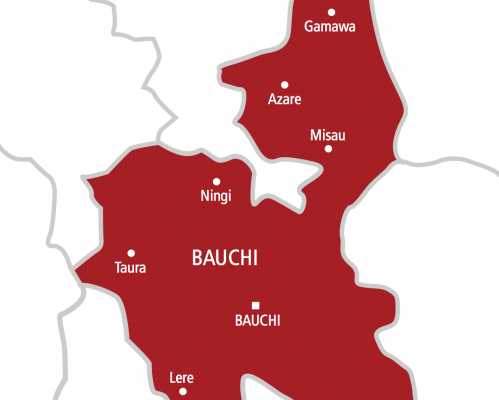 Governor Bala Abdulkadir Mohammed of Bauchi State is celebrating that crude oil has been found in his state. The find, Kolmani River Well 11, is in Alkaleri local government area. The Nigerian National Petroleum Corporation (NNPC) announced the discovery on Oct. 10. It explained that "at 18:02hours, one of the reservoirs was perforated and hydrocarbon started flowing to the well head at 21:20hours in which the gas component was flared to prevent air charge around the Rig.
"Preliminary reports indicate that the discovery consists of gas, condensate and light sweet oil of API gravity, ranging from 38 to 41, found in stacked siliciclastic cretaceous reservoirs of Yolde, Bima sandstone and pre-Bima formations. Computation of hydrocarbon volume is on-going and will be announced in due course".
Reacting to the fossil oil discovery, confirmed by Minister of State for Petroleum Resources, Mr. Timipre Sylva, the Bauchi governor described it as "a giant stride in unlocking the well documented economic potentialities of the state". In a statement by his Senior Special Assistant on Media, Comrade Mukhtar Gidado in Bauchi, the governor said the discovery "will make the state a net contributor to the nation's crude oil output". The statement added, "the occasion of striking of oil in Alkaleri Local Government Area of the state by the Nigerian National Petroleum Corporation is a great moment, not only for the state but for Nigeria as a whole as it is a monumental opportunity for both the present generation and the future". He advised, however, that "there is need to embrace the currents of time and global best practice by diversifying and keying into the digital age".
We at Peoples Daily understand governor Bala Mohammed's euphoria over the oil find in his state. It demystifies the belief that Northern Nigeria survives only on the oil economy of the South. It also interrogates the claim that the North is a big "parasite" on the far more productive (?) southern part of the country, a lie that has been told time and time again.
However, this does not tell the whole story. And this is why it is not yet celebration time. For one, it is as yet to be ascertained if the find is of commercial value. Secondly, in not too distant future, fossil fuel will cease to be popular because of huge production costs and pollution risk. Cleaner and less costly energy sources are fast emerging on the scene.
Therefore, the North should, and must, not be lulled into complacency by the crude oil strike in its heartlands. Plans to resuscitate its agrarian economy should continue alongside the search for crude. Because the future of the region lies in agriculture which will ensure food security and provide jobs for its teeming youth population.