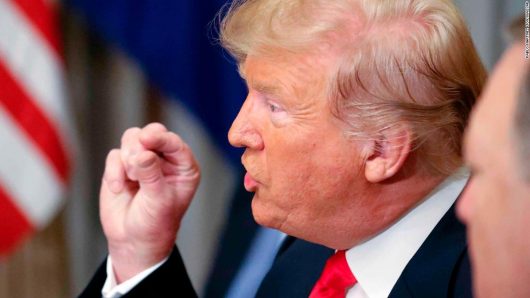 Monday Column by Emmanuel Yawe
royawe@yahoo.com | 08024565402
Even before he took a plunge into the pool of presidential contest, Donald Trump sent enough signals that he poses a serious threat to American democracy. On election night 2012, Donald Trump called for a "march on Washington" after President Obama defeated the Republican nominee, Mitt Romney, whom he endorsed.
Trump issued the call while predicting that Romney would win the popular vote but lose the electoral. (Obama won both.)
Needless to say, there was no march.
But if Hillary Clinton defeated Trump in 2016, the story would have been different. One of his diehard supporters, Roger Stone, had promised mayhem if Trump lost. "I mean civil disobedience, not violence, but it will be a bloodbath," he told the media at the time. "The government will be shut down if they attempt to steal this and swear Hillary in."
Trump himself who was trailing Clinton in national polls at the time his supporter was threatening hell and brimstone was already crying Wolf. He told supporters at a rally in Ohio that the fix was coming.
"The election is going to be rigged," he said. In an interview with the Washington Post, he did not rule out contesting its result if he lost.
"I don't want to jump the gun. I don't want to talk about that," he said. "I'm just saying that I wouldn't be surprised if the election … there's a lot of dirty pool played at the election, meaning the election is rigged."
I cannot remember the last time a major presidential candidate in the USA complained so openly about rigging even before an election is held or talk about challenging the result of a concluded election. No matter how contentious and controversial the figures may seem, the defeated candidates always phone the victorious, congratulate them and it is all over. Nobody calls out a mob for public protest and crippling of government.
Not so for Donald Trump. His whole campaign machinery was geared to whipping up fear and resentment. It was a platform of visceral contempt — for immigrants, Muslims and facts — trafficking in insults rather than ideas. He abandoned policy and adopted posturing. There was little dispute that Trump's unconcealed bigotry, proud ignorance and authoritarian tendencies made him singularly unfit for office. Amazingly Americans gave him the trophy and handed their future and that of the world to him.
The only hope was that the man would drive himself out of office by the nature of his megalomania and avarice. A flurry of actions followed immediately after his inauguration and on January 27 2017, Trump signed an executive order entitled "Protecting the Nation from Terrorist Attacks by Foreign Nationals," This order temporarily suspended the U.S Refugee Admissions Program (USRAP) for 120 days. This order also denies entry to citizens of Iraq, Libya, Somalia, Sudan, Syria and Yemen.
The act is of particular interest to Africans because of the six countries that have been banned temporary from entering the US, – Libya, Somalia and Sudan are from Africa. This new policy banning immigrants and refugees is bound to have adverse effect on Africa because a large percent of refugees admitted into the U.S. are Africans. Additionally, embarking on an immigration policy targeted against Muslims will adversely affect relations with the continent where a population of 250 million Muslims resides in Sub Saharan Africa alone.
One of the most contentious issues during the 2016 presidential campaign was the suspicion that Russia meddled in it to ensure that Donald Trump won. This controversy refused to go away and the Deputy Attorney General Rod Rosenstein was pressured to appoint Robert Mueller a former FBI Director to take over whatever work the FBI had done to investigate the allegations.
A total of thirty four individuals and three companies were indicted by Mueller's investigators. Eight have pleaded guilty to or been convicted of felonies, including five Trump associates and campaign officials. The investigation was, however, more complex. In a press conference on May 29th, Mueller stated at a press conference that "If we had confidence that the president clearly did not commit a crime, we would have said that. We did not, however, make a determination as to whether the president did commit a crime… A president cannot be charged with a federal crime while he is in office. That is unconstitutional. Even if the charge is kept under seal and hidden from public view – that too is prohibited."
The investigation was officially concluded on March 22, 2019, with the Mueller Report submitted to Attorney General William Barr. The report concluded that the Russia's social media campaign supported Trump's presidential candidacy while attacking Clinton's, and Russian intelligence hacked and released damaging material from the Clinton campaign and various Democratic Party organizations. The investigation "identified numerous links between the Russian government and the Trump campaign", and determined that the Trump campaign "expected it would benefit electorally" from Russian hacking efforts.
On potential obstruction of justice the investigation "does not conclude that the President committed a crime" because by law, investigators do not have powers to indict a sitting president. However, the investigation "also does not exonerate" Trump, finding both public and private actions "by the President that were capable of exerting undue influence over law enforcement investigations"
The report states that Congress can decide whether Trump obstructed justice and has the authority to take action against him. Upon his resignation on May 29, 2019, Mueller stated that: "the Constitution requires a process other than the criminal justice system to formally accuse a sitting president of wrongdoing". In July 2019, Mueller testified to Congress that a president could be charged with obstruction of justice (or other crimes) after they left office.
The day after Mueller's testimony, Trump called Ukrainian President Volodymyr Zelensky and pressured Zelensky to help him win the 2020 election by investigating former Vice President Joe Biden's son, Hunter, In the weeks that followed, Trump refused to grant Zelensky a meeting at the White House and halted $250 million of congressionally authorized military aid to the country, raising the possibility that the president was, in the words of Washigton Post, "not just soliciting Ukraine's help with his presidential campaign" but using U.S. military aid to "extort it."
"If the reports are correct, there is truly no bottom to President Trump's willingness to abuse his power and abase our country," Joe Biden said in a statement. "This behavior is particularly abhorrent because it exploits the foreign policy of our country and undermines our national security for political purposes. It means that he used the power and resources of the United States to pressure a sovereign nation… to subvert the rule of law in the express hope of extracting a political favor."
Mueller did not recommend criminal charges against Trump. Instead he deferred to Congress. But congressional leadership was then not in a mood for impeachment.
So with Mueller out to pasture, Congressional oversight comatose and public outrage without any actionable outlet, Trump apparently felt emboldened to ask another foreign leader — one who happened to be waiting for the Trump administration to release $250 million in military assistance— for help in discrediting another political rival.
Americans are thus saddled with a President they can no longer trust, is conducting domestic and foreign policy in US interests. Rather, all are done in his own interest.