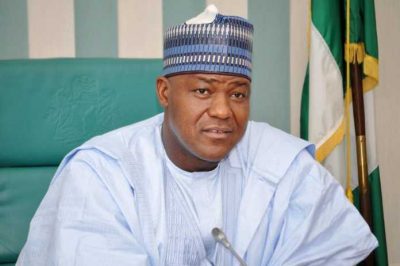 … Submits nomination form
By Lateef Ibrahim, Abuja
After weeks of speculations, Speaker of the House of Representatives, Hon Yakubu Dogara yesterday stormed the national headquarters of the Peoples Democratic Party, PDP, with a declaration that nobody can retire him from politics.
The Speaker, who was at the 'Wadata House' office of the PDP, with several of his supporters and associates to submit his expression of interest and nomination forms for the House of Representatives, specifically challenged those who think they can retire him from politics to come and meet him in his Bogoro/Dass/Tafawa Balewa federal constituency of Bauchi State.
Dogara submitted his forms to the National Organising Secretary of PDP, Col Austin Akobundu, rtd.
The All Progressives Congress, APC, had last week, through its National Chairman, Comrade Adams Oshiomhole, described Dogara as a feather weight politician without any electoral value.
The APC, spoke then while reacting to reports that Dogara had collected the expression of interest and nomination forms of the PDP for the lower arm of the National Assembly.
The ruling party boasted that the Speaker will lose his seat if he contests in the next year's election.
However, Dogara said, "So, I am here, I have picked a nomination form.
For those who say they would retire me from politics, to show them boldly that this is where I am.
"And anybody who thinks he will retire me from politics, I am waiting for him in the constituency in case they don't know of Bogoro/Dass/Tafawa-Balewa Federal Constituency. Let them come", he said.
On why he defected from the All Progressives Party, the Speaker said, "I'm still shocked, when I recover from my shock I will tell everyone and my people why I left the APC".
The Speaker described himself as one of the founding members of the PDP, pointing out that he was among those who helped to put the first constitution of the party together.
He explained that his decision to leave the PDP for APC when he did, was, "on account of few developments", stressing however that his return to the party (PDP) was because, "This is a home to me".
In the words of Dogara, "So, I have decided to come back to my original root because the truth is that when we went into APC after the General Elections, there was never an occasion in which we were not reminded that we do not belong.
"When there are discussions, you will hear reference to the fact that those who joined us from the PDP are our problems.
"So, that discussion will end from today since we have left. So, I have decided to join my brothers – members of this great party the PDP – so that we can chart a new frontier in our state of Bauchi and for our dear nation Nigeria.
"So, I am here not because they have denied me ticket to contest in APC. And I am not bothered about contesting election; what bothers me is the state of my state. The situation in which our people are and the state of this country.
"So, even if you give me a ticket to work in a situation where my conscience is totally not aligned with, to be candid, I cannot function effectively" he said.
He lambasted the ruling APC in Bauchi state and at the federal level for "not fulfilling a single of all the promises we made".