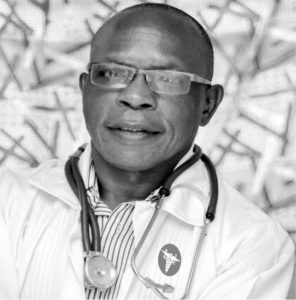 An acupuncturist and a doctor of alternative medicine, Dr. Nanchak Nimzing, in an interview with Tobias Lengnan Dapam, said the disadvantages in conventional medicine has made him to study acupuncture so as to provide help to Nigerian in need of alternative medical treatment. Excerpts:
Many people are asking, who is the acupuncture expert, Doctor Nanchak?
I am an acupuncturist and a homeopath, with training on nutritional medicine. I decided to go in to acupuncture because I discovered the disadvantages we have in conventional medicine. Some years ago when I was in secondary school, I had issues with drug toxicity. As time went on, findings revealed that nothing could be done other than to change the drug because my body system did not want that type of drug. The other option was to reduce the dosage of the drugs. So I decided to go in to an alternative medical field, the Chinese acupuncture which does not use drugs and therefore, it is safe avoiding the drugs toxicity that comes with drugs therapy. And because it is also a system of medicine that treats various diseases and sicknesses, I felt that it is a challenging area being a relatively new field of medicine as proven by many researchers. Because of its efficacy the World Health Organisation (WHO) in 2003, instituted a clinical research on certain diseases and came out with 28 major diseases, symptoms and conditions for which acupuncture had been proven through these control trials to be an effective treatment. And that nearly 100 more conditions were eventually reported after the initial research by WHO, as being beneficial to acupuncture treatment. Based on these, I found it a field that one can go in to an explore. So I went to study alternative medicine with emphasis on acupuncture. I started online but went in to the defunct Federal Collage of Alternative and Complimentary Medicine in Abuja, established be the federal government under the supervision of the federal ministry of health. But the institution later folded up. That made me to leave the country to Sri Lanka to advance my study in acupuncture, where I obtained a post graduate diploma in acupuncture and PhD in acupuncture. I also went to the school of Natural Sciences in UK, where I optioned diploma in homeopathy.
Why the choice of FCT to establish your hospital?
Acupuncture is a new field of medicine, practiced in Asian countries where it originated. It is also practiced widely in Europe and America. So the likelihood that people who have the knowledge and would need the treatment are people who travel to such places or come from such areas. Also the capital is where you have people from every background coming to work. There are American, Asians, and people from other parts of the world who were used to acupuncture treatment before they moved to Nigeria to work. There are also Nigerians who have traveled to those parts of the world and saw the effective nature of acupuncture treatment. Those people will need my help. We also have cases of people who tried the treatment and prefer to stick to it because of its effectiveness.
What are some of the ailments you treated using acupuncture?
Acupuncture is a wide area of medicine, and the areas I have treated included: Musculo-skeletal Condition, neurological conditions, psychological conditions, respiratory conditions, gastrointestinal conditions, gynecological conditions, cardiovascular conditions and conditions of the eye, ear, nose and mouth.
In musculoskeletal condition for example, we are dealing with a patient that was recommended in the convention hospital for bilateral knee cap replacement because of arthritis damage. Those doctors know the effectiveness of acupuncture. I gave her eight weeks of treatment but within one week, she was able to walk without her crutches, and by eight weeks she said she recovered eighty percent and wants to be discharged. We have also treated numerous cases and diseases that could not be handled in the conventional hospitals.
How long have u been practicing?
I started with acupressure as far back as 2009, and when I got qualified in acupuncture in 2011, I have been doing acupuncture at serious level. And so far, we have successfully managed over a hundred cases in the country, with people trooping in daily to seek medical assistance. This is apart from minor cases cases that we have treated.
What are the challenges?
The challenges are in two phases. The first one is the cost of needles and other equipment for acupuncture. We import those equipment that we use for acupuncture because we can't get them in the country to buy. The other one is the ignorance of some conventional doctors about the efficacy of acupuncture. Most of them think acupuncture is for pain relieve. Because of these ignorance, they advice patients against acupuncture treatment. The truth is that acupuncture has gone wide and has handled a lot of cases including the ones that the conventional hospital cannot treat. People who have insomnia, when they come here we needle them and they start sleeping immediately before gradual treatment commences. Hypertension, mensuration issues and a lot of other complicated diseases have been handled using acupuncture. We also have acupuncture treatment for diabetes. The doctors need awareness about the effectiveness of acupuncture because we have done a lot that the public need to know; that is why the WHO recommended its use for so many diseases. In its publication in 2003, WHO in its review and analysis of reports on Controlled Clinical Trials, said "acupuncture could serve as valuable alternative treatment for many diseases or conditions for which modern conventional treatments are unsuccessful. It is also valuable in situations where the patient is frightened of the potential risks or adverse effects of modern conventional treatments. In fact, in some developed countries, the diseases for which patients seek help from acupuncturists tend to to be beyond the scope of orthodox medicine." Based on this report, people need more awareness so as to understand the scope of acupuncture and its effectiveness.
How do you want government to assist this sector?
Healthcare is the major responsibility of government. And it must provide the enabling environment for people. Sometimes back, in 2008, the government established the collage of complimentary and alternative medicine and it was teaching in all those aspects of alternative medicine. But in 2010, it was closed down. The school should be reopened so as to encourage the practice of alternative medicine in the country. All of us practicing in the country studied abroad. The institution needs to be reopened for the training of alternative medical doctors.