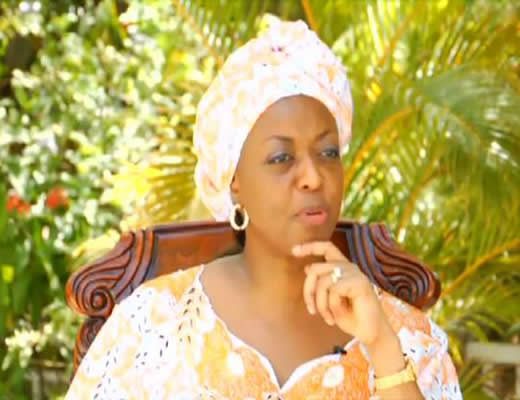 THURSDAY Column with Mohammed Adamu
(08035892325 sms only) | dankande2@gmail.com
And so the question is asked: what's in it for Dominica? What does the poor Caribbean country, Dominica gain by appointing as its 'Commissioner for Trade and Investment', Nigeria's former Petroleum Minister, Diezani, -a fugitive accused of humongous corruption and currently hiding in an unknown address in London? What exactly is there for the island country or her political leaders in return for granting a fugitive national of another country diplomatic passport which confers on her immunity from criminal prosecution and from the distraction of civil litigation?
It is alleged that in return for the Dominican diplomatic passport, the former Nigeria's Petroleum Minister, Diezani may have bought for Dominica's Prime Minister (name) a choice property valued at a princely sum of 2.2 million dollars and located at yet one of the choicest location in New York, right in the precinct of the United Nations building in Manhattan. It is one of the latest, in the many emerging new methods that corruption fights back –by legitimately denying both municipal and international law the right or the power to assume jurisdiction in order to bring the corrupt to book.
Most economically-struggling Caribbean countries –and especially those with corrupt political heads- lead the way in this avant-garde method of profiting from helping criminals beat the law by investing them with diplomatic regalia to escape justice. Leaders of international drug cartels are said to be mostly beneficiaries of this practice dubbed 'diplomats for sale', and that from as little as 250 thousand dollars to as much as 2million dollars and above, they purchase diplomatic passports in the guise of performing some eminent foreign duties for the appointing country.
And from what had started with members of drug cartels as beneficiaries, the Diezanis today will be some of the earliest beneficiaries of this rogue trade from the ranks of 'Politically Exposed Persons', and especially from Africa, who plot not only to launder proceeds of corruption abroad but also to escape the long arm of international law and especially the municipal laws of their hotly pursuing countries. Beneficiaries are usually either directly appointed as political ambassadors, cultural attaché or they are accorded some plenipotentiary status that may require international travel and thus diplomatic cover. It was in that guise Dominica appointed Diezani Commissioner for 'Trade and Investment'.
This is the typical characteristic of untamed corruption, that when it is allowed to assume a grand proportion, it can lead to humongously-rich politicians fattened from the riches of their countries grabbing political power and over time gravitating into a dangerous alliance between them and especially organized business crime groups -as we see in many parts of Lain America and the Caribbean. And thanks to the Diezanis of this world, this species of rogue alliance has started bearing fruits beyond the North and the South Americas.
A surrogate oil company in far away United States of America was said to have been the conduit by which Diezani's alleged 2.2 million-dollar, non-mortgage New York apartment was bought for Dominica's Prime Minister, Roosevelt Skerrit; -and that although the Prime Minister's wife Melissa is said to regularly be in occupation of the apartment, both Skerrit and Diezani have denied any links to the Delaware surrogate oil company that bought it. Skerrits in fact is insisting that the said apartment belongs to a personal friend of his wife.
But be that as it may, reports say that Diezani may be plotting soon to escape the U.K. for her new country of origin, the Dominica, to complete the grand plan of making her person more distant and thus inaccessible to international law and to the municipal laws of her now estranged country, Nigeria. How she successfully disentangles from the ongoing corruption investigation against her in Britain may in fact have informed the whole idea about her purchasing citizenship and immunity from a rogue Dominican state.
Nor has the UK in anyway inspired any hope that Nigeria can rely on her to either bring Diezani to a British court on charges of corruption or to accede to extradition request by Nigeria to bring her home for trial. Said the EFCC in a statement: "We are intent on bringing Diezani to justice, and despite the spirited efforts of the commission in ensuring that she returns to Nigeria and face trial, she has been held back in the UK by an investigation that has spanned almost four years without any signal about when she will be available in Nigeria for prosecution".
POSTSCRIPT
(An excerpt from a previous piece, 'DIEZANI'S LOOT')
….to Diezani now belongs the luxury of distant rebuttals. She now defends against allegations of corruption from the comfort of her medical sanctuary abroad, and not from the inglorious dock of the courts of her fatherland. Rather than come home to defend herself through the due judicial process, Diezani now regales in occasionally throwing tantrums and extra-legal red herrings in denial of allegation she stole the nation black and blue! She is currently challenging the EFCC to provide 'incontrovertible evidence' that a certain 153 million dollars 'allegedly lodged by her cronies, in three banks', belong to her. And even as ownership of this amount remains in dispute -because neither Diezani nor her surrogates would assert claim- a Federal High Court in Lagos had ordered that the money be temporally forfeited to the Federal Government, 153 million dollars, or over seventy-five billion naira deserted, disowned and abandoned! So that thanks to Diezani, in addition to what brokers call 'un-claimed dividend', we now have what judges may call 'un-claimed loot'. Or, in addition to what bankers call 'bad debt', we now also have 'bad loot'.
Jonathan's wife, Patience was the only one we knew to be 'street-wise' first, (when she personally lodged some of her 'loot' in the accounts of cronies'). Then she was nimbly-witless, second (when she openly admitted that the loot belonged to her). And in the end she was plainly 'foolish', third (when she claimed that her late 'miniras seller mother' bequeathed those billions to her. And although Diezani too may have been 'street-wise' not to lodge some of her loot in her own personal account, yet even she was naïve thereafter to think, rather imprudently, that merely because the money was not found in her personal account, she therefore did not steal it; -a kind of alibi the EFCC said was like the Godfather's claim of innocence only because he pulled no trigger in any of the killings he ordered.
Diezani has insisted that while she called the shots at the Petroleum Ministry, she never had access to any money. Virtually everyone in the Jonathan administration may have stolen, one way or another. From Dasuki, down to the puny, little sparrow, Metuh, all may have sinned and fallen short of the glory of God. But not Diezani herself. She did not steal a dime! In all her tenure as Petroleum Minister, this paragon of beauty and of righteousness, this angel of heavenly virtue, saw no evil, heard no evil and you bet she did absolutely no evil. But whether –when she was oil Minister- it was Diezani that had access to money, or it was money that had access to Diezani, is immaterial to the substance of the allegation by cronies, revealing numerous proceeds of corruption at home and abroad, which bear her own imprimatur. -including an eighteen million-dollar jewelry-filled mansion at Asokoro said to be fitted with a bulletproof gymnasium worth 2 million dollars.
But listen to Diezani: "Let me re-state categorically as I have always maintained, for the record, I have NOT and WILL NEVER steal from or defraud the Federal Government of Nigeria". Isn't that wonderful? Said Thomas Carlyle, "To a shower of gold most things are penetrable", but to Diezani's reputation for incorruptibility, not a torrent of diamond will be enough! And so to the one who said that 'a good politician is as unthinkable as an honest burglar', we have in Diezani, an excellent exhibit that gives the lie to that adage.
Concluded