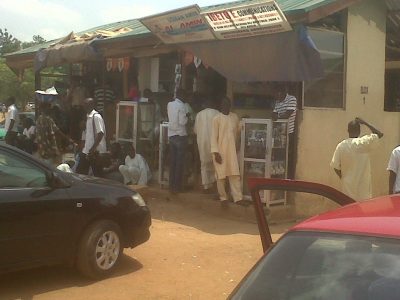 By Stanley Onyekwere
Officials of the Development Control Department, under the Federal Capital Territory Administration (FCTA) yesterday demolished cluster makeshift structures used for leisure near GSM village, in Wuse Zone 1, Abuja.
It was gathered that Development Control officials accompanied by mobile policemen stormed and dismantled the structures occupied by leisure parks in the area, for purportedly constituting nuisance along the Abuja Rail corridor.
A visit to the area showed operators and shop owners trying to salvage whatever valuables left inside some of the ransacked structures.
Some of the affected persons (operators/ owners) decried that government bulldozers arrived with less than 24-hour notice, thereby throwing them into state of despair, as could only salvage little bit of their properties.
According to one of the leisure park owners, Mr. James Timi, the officials only visited area on Monday, to mark the structures for demolition, which specifically urged the proprietors to vacate the premises within 24 hours.
He maintained that no adequate prior notice or explanation was offered by the government officials, for the exercise.
"I want to know the reason for the demolition before I decide what next step to take. This is very devastating. They didn't even allow us the 24-hour notice they issued.
"Meanwhile, we have a subsisting court order against any such action. Yet, the officials who came for the demolition refused to listen to us.
"We tried showing them copies of the court order but they refused to eben look at it but went ahead with their action. This is very bad of government officials," he stressed.
Meanwhile, when contacted, the spokesman of the Development Control, Larry James, said the exercise was part of ongoing removal of structures along the Abuja railway corridors, in preparatory for its take off.
According to him, prior to the exercise, there was adequate notice and sensitization by relevant authorities, as the government does its work with human face.
He said they started last year and that they would continue till the corridors are cleared, to pave way for the speedy completion and operation of the rail project.