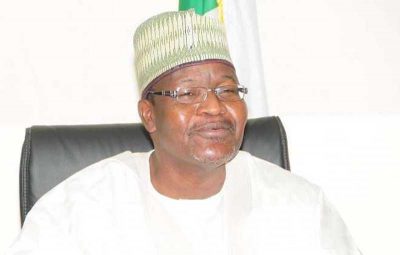 By Etuka Sunday
Another feather will be added to the academic cap of the Executive Vice Chairman (EVC), of the Nigerian Communications Commission (NCC), Prof Umar Garba Danbatta, as the Nigeria Academy of Engineering, the apex engineering body in the country, is set to induct him into the exclusive elite group.
Danbatta will be inducted as a fellow of the Academy on June 21, 2018, just some 48 hours before he receives an honorary Doctorate Degree from the University of Jos.
Fielding questions from newsmen at the NCC's Headquarters, Prof Fola Lasisi, the Vice President of the Academy who led other distinguished professors to a courtesy call on Danbatta, said that the addition of NCC boss to the body is a testimony to the quality leadership that the NCC is blessed with.
"We want to show that Nigerian Communications Commission has always had very brilliant people at the top. Engr. Ernest Ndukuwe was also one of us and became a fellow when he was here. Prof Danbatta continues in the same way, so we want to congratulate him and tell him that we appreciate his becoming a Fellow," he noted.
Similarly, Danbatta who also fielded questions from newsmen, however, lauded what he described as the tradition of excellence in the Commission, adding that his induction as a fellow of the Academy will be a big honour to the regulatory agency.
"We acknowledge this recognition as a great honour to the Nigerian Communications Commission, and the EVC/CEO. I, therefore, pledge to continue to impact in a way and manner that will lead to the transformation of the industry, its stability, resilience and general contribution to the economy," he stressed.
Speaking further, Danbatta said that the NCC would continue with the same culture of support and cooperation with the Academy.
"We will leverage the experience of the Fellows of the Academy and bring this to bear in improving Quality of Service. You know the Quality of Service is normally measured, using 4 key performance indicators, and we believe that more additional indicators can be brought in to improve the Quality of Service further," he explained.
He said the Academy can also lend its voice on the issues of Right of Way, multiple taxations, and multiple regulations to ensure that all the nontechnical factors that affect the quality of service are tackled.