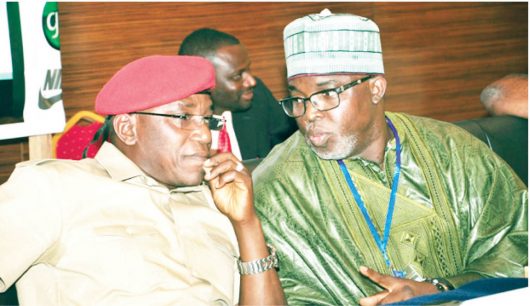 By Amaechi Agbo
Minister, Youth and Sports Development, Solomon Dalung has challenged Nigeria Football federation to pay under-aged national football teams their deserved match bonuses and allowances.
The minister made the charge while reacting to NFF's decision to strip under-aged national teams – the Golden Eaglets, Flying Eagles, Olympic team, Flamingos, and Falconets of match bonuses and allowances during qualifying matches.
Six arms of the national teams have been dealt a huge blow after the Nigeria Football Federation announced on Thursday that they were no longer entitled to match bonuses.
NFF had in November 2017 its communiqué after a board meeting over by the president of the federation, Amaju Pinnick in Jos stated that only the Super Eagles and Super Falcons "will be entitled to bonus payments per match".
The federation firmly ruled out the Flying Eagles (U20), Golden Eaglets (U17), the beach soccer team and the Under-23 team as well as the Falconets (U20 women's team), Flamingos (U17 women's team) from any match bonuses during tournaments.
The communiqué read, "The committee reiterated that henceforth, only the Super Eagles and the Super Falcons will be entitled to bonus payments per match.
"Players, coaches and backroom staff of other (national) teams will earn daily allowances, approved bonuses at the end of successful qualifying campaigns and approved allowances (including daily allowances) at championships."
Responding to a question during an interview on whether the female Under 20 team, the Falconets have been paid their match bonuses and allowances after their participation in the 2018 France Under 20 FIFA Women's World Cup in August last year, the minister wondered why the issue have not "died" and said that the ministry released money for the payments during the championship.
He therefore charged the federation to give to the players or athletes whatever is due for them wondering if the federation officials would also forfeit their own estacodes in such matches.
"This issue of the payment of the Falconets after the France World Cup, I don't know where it is coming from and I don't know why it has refused to die.
"Honestly, the problem we had with their payment was that it came during the NFF crisis. But we got the approval of the Acting President then which has since been released to NFF. So I think if they have not been able to sort it out, it is a different thing.
"I have also had argument that being a junior team they are not entitled to some certain rights. But I disagree on that. Any athlete that left the shores of Nigeria to anywhere must enjoy the rights others enjoy. It does not matter whether they went there as kindergarten athletes, amateur or professional. The issue is that they represented the country outside the shores and they have to be given what is due for them," the minister said.