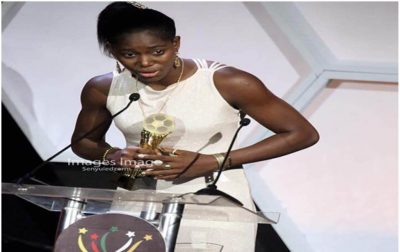 By Amaechi Agbo
The minister of Youth and Sports Barrister Solomon Dalung has advised Nigerian youths to emulate the 2017 AITEO CAF Woman footballer of the year, Asisat Oshoala.
While congratulating the striker who plays for Dalian Quanjian F.C. in the Chinese Women's Super League, Dalung said the recent award was a due recognition of a well deserving youth.
"In a country dominated by a young population between the ages of 19 and 30, there is a need to channel our energies into worthwhile ventures to make Nigeria great again.
"This award is not just for Asisat Oshoala alone, but for every youth out there currently defying the odds just to make a name for himself or herself."
Dalung, while enjoining the teeming youths on the need to stay focused and carve a niche for themselves said the recent success of Oshoala has reiterated the Nigerian spirit of 'can do'.
"Anyone can achieve any level of success with the right approach, dedication, hard work and diligence."
Dalung advised that with the right attitude, determination and hard work, Oshoala can surpass the all-time record holder, Perpetua Nkwocha with 4 CAF African Women Footballer of the year awards after she won her 3rdindividual title during the event that took place last week in the Ghanaian capital, Accra.
On Thursday last week, Asisat Oshoala became the fourth Nigerian player to win more than two times African Player of the Year award after she defeated her two closest rivals, Cameroon's Gabrielle Aboudi Onguene and South Africa's Chrestina Kgatlana.
Oshoala's crown made it the 10th time Nigeria has won the award since Mery Akide's in 2001. Other past Nigerian winners are Perpetua Nkwocha (2004, 2005, 2010 & 2011), Cynthia Uwak (2006 & 2007) and Oshoala in (2014 & 2016).
The former Arsenal Ladies and Liverpool Ladies inspired her Chinese side Dalian Quanjian to a double with 19 goals in last season's Chinese Super League.