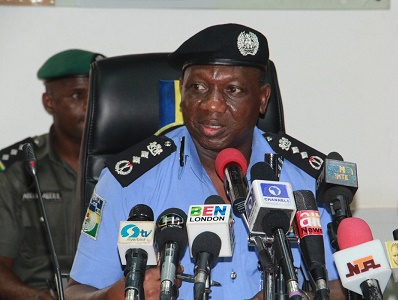 By Miriam Humbe
They pose as taxi drivers to carry a passenger to a lonely road where another member of the gang hiding in the boot of the car comes out behind the passenger's seat and points a gun to the passenger, while some are whisked away and never seen.
The spate of kidnapping, one chance, killings among others are getting on the increase across the country including the Federal Capital Territory (FCT) and they have devised a new tactic of robbing passengers of their valuables.
Some of them, with the aid of the driver, they then snatch the passenger's belongings and push him out of the moving car, leaving him with serious injuries. They mostly operate at night, a victim told Peoples Daily.
Another one is the taxis (popularly called 'along') that stop and pick passengers intermittently on the way at various bus stops.
Our correspondent gathered that the new robbery tactic, which is called One Chance, started with unpainted taxis but now the painted green and white ones have joined the fray.
Residents say they are no longer safe and it is really disturbing because it keeps happening every day. Many of those who have been attacked are women and children. Some of their victims are also used for rituals.
The ugly development has brought safety and security issues to the front burner amongst Nigerians .
Aside from the One chance crime, the spate of senseless killings in Nigeria has become an issue of concern. Everything has been blamed for the problem except the herdsmen perpetrating the act.
Politicians have been blamed for arming people who pretend to be herdsmen and who are now killing, maiming and chasing people out of their communities.
Though, the Miyetti Allah Cattle Breeders Association of Nigeria, under the leadership of Danladi Ciroma claimed the attack was in retaliation of the killing of over 300 cows in the last few weeks by villagers .
According to him, despite efforts by the government; some criminal elements hiding among their people were still frustrating the peace efforts.
While sampling opinion from residents, One Maimuna Hussaini, a 36-year-old civil servant, narrated her ordeal in the hands of the robbers She said: "I observed that the driver took me through an unfamiliar route; it didn't occur to me that he had a bad motive because I thought he was avoiding traffic only for him to stop on a lonely road not far from Gwarinpa and said he wanted to take a tool in the boot to check a fault in the cab.
She recalled that there was nobody at the back seat when the taxi man switched on the inner light and thus concluded that the man that attacked him definitely emerged from the boot.
However, Mr. Musa Eyagi, Treasurer of the National Union of Road Transport Workers (NURTW), Zuba Branch in an interview said that the union impound vehicles that load in unauthorized areas without entering the park because most of those that engage in criminal activities do not enter the park, but pick passengers on the road.
In the same vein, a non-governmental organisation (NGO) in Nigeria, Witchcraft and Human Rights Information Network (WHRIN) have called for more education about albinism as main targets for such ritual killings, in order to give them their due rights in the society.
They called for more action to be taken to address the public health misconceptions towards people with albinism, as a driving force behind human rights violations against this endangered group across Africa.
According to the NGO, recent reports indicate that, "there have been 438 recorded attacks in 25 African countries since 2006, and 165 muti murders, involving people with albinism, who are murdered for their body parts to be used by so-called witchdoctors for magic spells (muti). Evidence suggests that such practices are spreading."
Apart from robbery attacks of one chance, in recent times, cases of ritual killings have been increasing as dark spots are been said to be avoided .
Such dark spots according to findings are ; Otta, Olambe Ibafo, Mowe (all in Ogun state ) Ikorodu, Isheri/Olowo, Ira under bridge also in Lagos state .
In Anambra, Isiala Ngwa in Igwurita, Lokoja-Abuja highway in Kogi state, Kaduna Eastern by pass , Kaduna-Abuja expressway among others .
Critics keep wondering why in the 21st century when citizens of other countries are experimenting on new innovations and technology, some Nigerians still indulge in the superstitious process of ritual murder of women, albinos, twins amongst others.
The head of the Skeptics Society, Leo Igwe in his essay on "Ritual killings in Nigeria" explained that Nigeria is a society where there are beliefs of unreasonable dogmas, myth making and magical thinking .
In other words, in Nigeria, belief in ghosts, juju charms and witchcraft is still widespread .
According to him, ritual killings of babies, twins , children , albinos among others is perceived as an act of spiritual fortification.
He however maintained that there had never been a single proven instance of any Nigerian who became rich through this hideous practice.
This notwithstanding, rural cases abound with poverty as the most prevalent factor.
Nigerians are beginning to lose hope in the government for their inability to secure the populace and to stop kidnappings, robbery, ritual killings and other security threats.
Though, they commend government's counter-insurgency strategy but express fear and concerns over the implication of extreme violence on insecurity, killings in the country.
They believe, the groups perpetrating these crimes are getting support in different ways with accusing fingers pointed at the government, military, and extremist organizations abroad.
Nigerians in Diaspora are also worried about the herder-farmer conflicts; some think that the government approach to addressing the conflicts are not effective.
The prevalence of conflicts which pose a huge internal security threat to the Nigerian state is glaring.
President Muhammadu Buhari has been widely criticized for his seeming poor handling of incessant killings in many states across the country.
Only recently, a presidential directive for the police Inspector General, Ibrahim Idris, to move to Benue state to check attacks, was ignored with no known consequence.
In a statement, the Presidency said it had decided to list steps taken by the administration so that widespread allegation of inaction against the president was prevented.