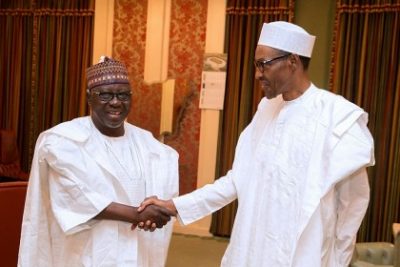 TUESDAY Column by VICTORIA NGOZI IKEANO
vikeano@yahoo.co.uk 08033077519
Lady Victoria where in the world have you seen a president commissioning a market…?" That is one of the text messages I received about President Muhammadu Buhari's recent state visit to Nasarawa State. Another asked, "The president was in Lafia and he did not go to Benue?" Also the critics maintained that what was commissioned by Mr. President are 'petty' projects. Without exaggerating Nigerians are 'born' critics for whatever you do, say or conceptualise, you are sure to get dissenting voices from both the informed and the uninformed. They are professional and armchair critics. We have them aplenty in Nigeria. And Nigerian leaders especially those in the public sphere must learn to live with them. You could argue that such is what makes the world interesting as hearing same sound bites or drumbeats all the time could become monotonous, could lure one to sleep and inertia so to speak rather than the alertness that always hearing something different engenders. After all, variety is said to be the spice of life.
Any way the messages gingered me to probe further and what better place to get answers to these criticisms than the ministry of information headed by a former majority Leader of the State's House of Assembly, Hon. Abdulhamid Yakubu Kwarra. Hon. Kwarra an eloquent speaker with a distinct diction is like a walking encyclopaedia on Nasarawa State as he reels out facts, figures, dates and names about the state off hand, on the spur of the moment. On the opposition's claim that the Karu International Market commissioned and named after the president is their baby because it was started by the PDP administration, available facts show that it was actually initiated some 22 years ago by its first governor, now deceased, Wing Commander Abdullahi Adamu. Commander Ibrahim was appointed by the then military regime of the late General Sani Abacha when Nasarawa State was carved out of old Plateau State in 1996 as its administrator. Other pioneer projects started by this pioneer governor is the Government House on Shendam Road and the Nasarawa Broadcasting Service (NBS).Though started in 1996, the Karu International Market which is located literally a stone throw from the federal capital territory, Abuja, had remained comatose for long. It was learnt that it took political will on part of the incumbent governor to complete and put to use this market which the government refers to as a "critical infrastructure".
This is understandable because Nasarawa State being largely a civil service state with no industrial base relies majorly on establishment of markets to empower its people and generate revenue. Hence the government is now establishing modern markets such as the New Market and Neighbourhood Market, both in the state capital, Lafia, Akwanga Model Market and of course the Muhammadu Buhari International Market, Karu. Regarding the labelling of projects commissioned by Mr. President as 'petty', the Information boss retorts, "Since the creation of Nasarawa State in 1996, did we have a market, since creation of Nasarawa State in 1996 did we have a Fire Service, since creation of Nasarawa State in 1996, did we have these 'petty' projects?".
For the Comprehensive Health Centre in Kwandere, findings show that it is not just the usual village health centre where you have a permanent nurse and one solitary migrant medical doctor that breezes in three times in a week to see patients with just minor ailments in an out-patient setting, recommending drugs which they have to go buy outside. The Comprehensive Health Centre that was commissioned by President Buhari is a model, a full-fledged hospital that renders a full range of medical services, including harbouring in-patients ( patients on admission), enabling rural dwellers to have access to quality healthcare like their counterparts in the cities. Findings also show this Comprehensive Health Centre is a project undertaken with the federal government under auspices of the National Primary Health Development Agency (NPHDA). And should this Comprehensive Health Care facility which is being done on a pilot basis be successful, then it is expected to be replicated in all electoral wards nationwide. Should this eventually happen, it would drastically boost healthcare delivery in our rural areas nationwide.
The Lafia Comprehensive Special School is truly special in words and deed for it is a special institution meant to provide quality education for all children that suffer from various forms of physical deformities and other impairments from kindergarten to secondary level It is all free of charge and the children are drawn from all parts of the country. One dares to say that this is a bold and courageous initiative as it is geared at developing the innate abilities and skills of this apparently neglected class of citizens in our society who are often looked down upon with contempt and also treated shabbily by the society. By equipping them with quality education, they can compete favourably with their able bodied counterparts and also contribute their quota to our nation's development. So far, from research, this is the first such comprehensive special school in the county. One cannot but doff one's scarf (hat) to the governor, Tanko Almakura for this laudable project which apparently stems from his own experience. These vulnerable, disadvantaged, physically and mentally challenged groups of persons in our midst deserve all the attention they can get from all and sundry, including government. By setting up this exemplary school, the government is giving hope to these special kinds of children and brightening their future which ordinarily is often bleak.
Now concerning the vexed issue of Mr. President not visiting Benue that had in recent times been hit by the herdsmen/farmers crisis with concomitant toll on lives and properties and the border communities in Nasarawa who suffer similar fate with a high toll of internally displaced persons. Apparently Mr. President's state visit had been fixed and his itinerary mapped out before the tensions generated by the clashes. Indeed President Buhari was originally supposed to spend two days in Nasarawa but because of pressing national issues on the part of the presidency, it was cut short to one day.
But Hon. Abdulhamid Kwarra responded to this criticism of the president not visiting the border communities that are suffering the aftermath of this crisis thus, "The issue of refugees is the direct impact of the so-called anti-grazing law from our neighbouring state of Benue and we are left to manage the consequences of an irresponsible political decision. It is the product of that that brought about the refugees. Mr. President has no business with that; we did not invite him for that.
"If there is anybody that should come and see the refugees, it should be the Benue state governor, to come and see what he has caused by his own action".