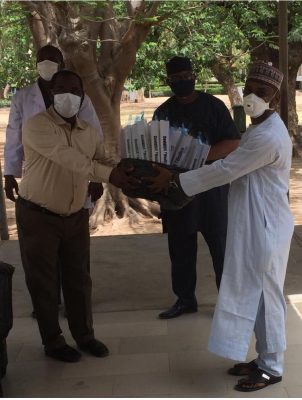 By Tobias Lengnan Dapam
CovidNigerianMedics has donated 1000 Face shields to doctors and nurses in Kano.
The group in a statement issued yesterday by its steering committee, said the donation was necessary to protect those at the frontline.
Represented by a member of its Steering Group, Engineer Sani Umar, the CovidNigerianMedics has via the Nigerian Medical Association Kano State Chapter and National Association for Nigerian Nurses and Midwives Kano State Chapter donated 700 to doctors and 300 to Nurses and midwives.
The group while donating the items called on the associations to utilize them judiciously and ensure adequate distribution to health facilities in line with the associations' membership strength and burden of COVID19 infection.
Face shields are personal protective equipment devices used by health workers- be it medical, dental, veterinary) to protect facial area and associated mucous membranes (eyes, nose, mouth) from splashes, sprays, and spatter of body fluids.
CovidNigerianMedics is a group of concerned & committed Nigerian Health Workers at home and in diaspora volunteering their time & resources to curb the COVID 19 Pandemic.
"We are conscious of the fact that health workers are on the frontline and are at risk of contracting Covid19, ensuring their protection has become paramount to all well-meaning Nigerians.
"There are reports all over the country of health workers been infected with Covid19 in the line of duty. It is in that light that the CovidNigerianMedics strive to support donation and free distribution of personal protective equipment including face shields, face masks, gowns, gloves to mention but a few throughout Nigeria."
The statement said the group's slogan "Together we stand with Health workers" is indeed a game changer in ensuring all health workers are protected where ever they are.