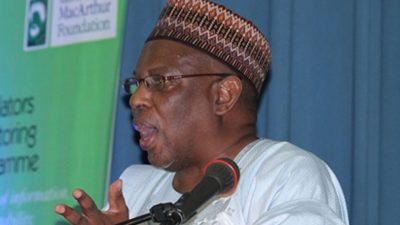 By Mashe Umaru Gwamna
The Executive Secretary, Universal Basic Education Commission (UBEC), Dr. Hamid Bobboyi yesterday said poor quality education has been identified as the worst form of corruption perpetuated in the education sector.
Bobboyi who made the disclosure during the opening ceremony of a Two-day National Workshop on Transparency and Accountability for States Universal Basic Education Boards (SUBEB), Southern zone, organised by the Anti-Corruption Academy of Nigeria (ACAN), with the theme: Transparency and Accountability, A Veritable tool for Effective and Corruption Free Basic Education in Nigeria, in Abuja, said its effects were extensive and damaging because it endangers a country's social, economic and political future.
The UBEC boss who lamented that corruption denies Nigerian children access to quality education, said combating corruption in basic education is the responsibility of both UBEC and SUBEBs, having realised the ugly effect of corruption.
While insisting that stakeholders cannot afford to fail in discharging the trust bequeathed on them submitted that, where personal effort and merit do not count and success comes through manipulation, favouritism and bribery, then the very foundations of society are shaken.
According to him, corruption in education affects more people than corruption in other sectors, both in rural and urban areas basically because schools are the breeding grounds for future generations.
corruption threatens equal access, quantity and quality of education.
He expressed the optimism that SUBEBs will at the end if the workshop imbibe the culture of prudence, transparency and accountability in running the affairs of basic education in their states.
"Basic education is the foundation of our future generations. We must instill the requisite values into young the generation so as to build a strong and virile nation which values selflessness over gluttony and greed, discipline and hard work over idleness and sloth".
The Acting Chairman , Independent Corrupt Practices and Other Related Offences Commission (ICPC), Dr. Musa Usman Abubakar, said ICPC had in its quest to entrench integrity in the Basic Education system conducted a system study of UBEC and SUBEBs nationwide , where it made several fraudulent discoveries, a development which gave rise to the quarterly workshop .
While stressing that ICPC will stop at nothing to enthrone integrity, trustworthiness , patriotism in the provision of UBEC, stressed the need for more enlightenment and education of the people against corruption as that would ultimately lead to prevention.
Earlier, in his opening remarks, the Provost Anti-Corruption Academy of Nigeria, Sola Akinrinade said the workshop was targeted at the operators on ground in various states.