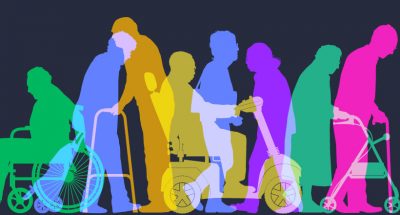 GUEST Column by Ohaga Ohaga
It is now five months and three weeks since the first positive coronavirus case was confirmed in Kenya. Since its advent, the Kenyan government has instituted several measures to help curb the spread of the virus. But as the rest of the world adapt to the new normal, people living with disabilities have been a neglected lot. Ordinarily, people with disability live an isolated life. Often treated as second class citizens. They are hardly noticed and even if noticed, little is done about their case. They are in danger due to lack of social inclusion, stigma from the healthcare providers, barriers to information, and discrimination from social caregivers.
Of significance is that even amid this neglect, there are specific instruments that guarantee their rights. Both the Constitution of Kenya 2010 and the United Nations Conventions on the Rights of Persons with Disabilities, guarantees that PWDs be treated equally as citizens.
With the COVID-19 pandemic wreaking havoc in homes, families, and businesses, there has been little attention drawn to people living with disabilities. This lack of attention hasn't just been from the national or county governments but also from public health service and on media reports yet according to the World Bank, there are one billion people globally who experience some form of disability and 918,270 persons living with disability in Kenya according to the Kenya National Bureau of Statistics (2019) census report.
On March 26th, 2020 President Uhuru announced that his government had appropriated Ksh10 billion through a presidential declaration to help cushion all vulnerable groups including persons living with disabilities from the effects of Covid-19. The fund was to be distributed to the annual cash transfers kitty through the Ministry of Labor and social protection. Additionally, the National Council for Persons Living with Disabilities also set aside KSh 200 million for short term Covid-19 intervention Programme that hoped to reach 33,000 beneficiaries.
However, a study commissioned by the Ulemavu Research Institute, revealed in August 2020 that only six percent of the respondents reported to have received relief food and cash transfers. Only three percent had access to free healthcare. The research survey conducted via Survey Monkey online platform in April and May also revealed that a high percentage of persons with disabilities are unable to meet their needs for food and rent during the pandemic.
Whereas having a disability doesn't by itself put one at a higher risk of contracting the Coronavirus, those who live with disabilities do have specific pre-existing conditions that make the virus more dangerous for them. PWDs are more likely to experience adverse socioeconomic outcomes than persons without disabilities, such as less education, poorer health outcomes, lower levels of employment, and higher poverty rates. According to the UN, Persons with disabilities compared to persons without disabilities generally have more health-care needs than others – both standard needs and needs linked to impairments – and are therefore more vulnerable to the impact of low quality or inaccessible health-care services than others.
According to Jane Buchanan, Deputy Disability Rights Director at Human Rights Watch, "People with disabilities are among the world's most marginalized and stigmatized even under normal circumstances,". "Without swift action by governments to include people with disabilities in their response to COVID-19, they will remain at serious risk of infection and death as the pandemic spreads.". Human Rights Watch further says that COVID-19 presents particular risks for many people living disabilities around the world and urges governments around the world to make extra efforts to protect the rights of people with disabilities in responding to the pandemic.
PWDs targeted Interventions
As a society, we mustn't forget about the specific needs of those living with a disability. It is worrying to note that most of the interventions suggested to help fight COVID-19 haven't been put into effect several months down the line. For example, some members of the PWD community is yet to receive a coin from the funds the government of Kenya allocated to them. We must stop the perpetual mistake of overlooking the specific needs of the disabled community.
All said and done, it is never too late. We can still make amends by ensuring that PWDs are provided with essential, accurate, and timely information and education for them to make informed decisions on how to protect themselves. This way, the group can know how to access necessary services during curfews or when in quarantine. There is a need to include video captioning, sign language interpretation, the use of alternative text in pictures images, and easy-to-read versions in all the information-education materials provided by the given governments.
There is also an urgent need for immediate action, addressing the needs of persons with disabilities to maintain their health, dignity, safety, and independence in the community throughout the COVID-19 pandemic. Additionally, isolation centers should be adapted to the specific needs of persons with disabilities to ensure their well-being. For example, in the case of persons with psychosocial disabilities, they may be required to live in total isolation. Providing hand sanitizer for those who can't access handwashing facilities.
Due to decades of neglect, many of the PWDs live in cramped spaces with proximity to each other; while thousands of children and with disabilities live in isolated and congested residential spaces where they suffer from abusive treatment, neglect, and poor conditions. This means that the PWDs are predisposed to acquiring COVID-19 because the virus spreads quickly in such conditions. To correct this, the government should consider reasonable accommodation measures to allow them to work from home.
Persons with disabilities must be included in all plans to manage the current COVID-19 coronavirus outbreak. Strengthen national legislation and policies on health care for PWDs. Identify and eliminate obstacles and barriers to accessibility in health-care facilities for the group. Improve health-care coverage and affordability for persons with disabilities as part of universal approaches to health care. Train health-care personnel on disability inclusion and improve service delivery for persons with disabilities. Empower persons with disabilities to take control of their own health-care decisions, based on informed consent. Prohibit discriminatory practices in health insurance and promote health insurance coverage for assistive products and rehabilitation services.
In our society, there's is a permanent feature of the stigma associated with living disability. And the stigma isn't only in the streets or home but in our places of work such as newsrooms. There is a need for the media to tell more stories about PWDs and the need for respect, accommodation, and the need for equal opportunity.
Across the world, companies have made effort to contain the virus including making from home permanent until 2021. This shift in working practices shows that indeed adaptations similar to the one can be made for those living with disabilities.
We must end the isolation and normalize the inclusion of PWDs in all societal activities. We must understand that we are all one minute away from being disabled.
The author is a Kenyan journalist, writer, and communication specialist with a special interest in media law and political communication.