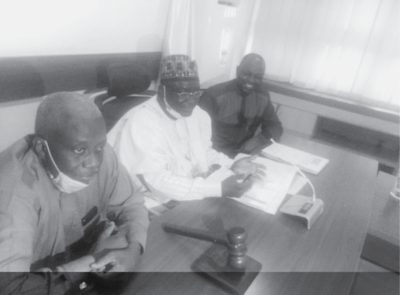 By Mashe Umaru Gwamna
The Council for the Regulation of Engineering in Nigeria (COREN), said the council has registered 67, 548 engineering practitioners in the country.
COREN President, Engr. Ali Rabiu, disclosed this at a news conference on the outcome of the Third Quarter Council Meeting for 2020 held in Abuja, recently.
Rabiu stated that,the categories of the practitioners registered are Engineers – 56,752, Engineering Technologists 5,612, Engineering Technicians 871, Engineering Craftsmen 2,703 and Expatriates 1,610.
He said the council ensured that,all engineering practitioners and firms were certified through the registration and licensing processes of the council.
The council also registered a total of 1,494 engineering firms in the country.
The president told journalists that the council has repacked the activities of Engineering Regulation Monitoring (ERM) to make it more effective, emphasising that Under the new policy and in accordance with the provisions of the amended COREN Act, ERM department has been established and ERM Operational Guidelines has being produced too.
He further explained that,the ERM operations necessitated the inauguration of a National Technical Committee (NTC) and National Expatriate Monitoring Committee (NEMC).
"They are being replicated at all state levels of the federation and the federal capital territory (FCT).
"The Nasarawa State Technical Committee(STC) and State Expatriates Monitoring Committee(SEMC)of ERM have also been Inaugurated.
"Fifteen states have forwarded their nominations namely,Kaduna, Sokoto, Borno, Kwara,Edo, Akwa-Ibom , Delta ,Oyo among others",Rabiu said .
Speaking on presidential Order 5,the president of the council revealed that the council has ordered all accredited Nigeria universities, polytechnics and Technical institutions to register all engineering students upon admission.
He said the development would enable COREN to monitor undergraduates and at the same time, facilitate long term planning for engineering regulation and training for the future .
Meanwhile,this will determined the standards of knowledge required for quality engineering programmes.
He pointed out that COREN has carried out accreditation of engineering programmes while collaborating with National Board for Technical Education (NBTE) to carry out accreditation of engineering programmes in polytechnics ".
The COREN team visited nine institutions ,visited 40 programmes; 33 programmes had full accreditation, four programmes had interim accreditation and three pass-pre-accreditation",he said.