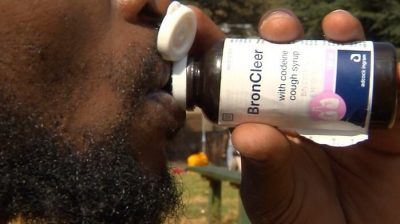 Nigeria's National Agency for Food and Drugs Administration and Control (NAFDAC) Monday began implementation of the ban the federal government placed on the production and importation of codeine, a painkiller that is a component of cough syrups. The ban came at the same time that the BBC aired a report that documented widespread codeine addiction among youths in the northern states particularly. Last Monday, NAFDAC announced it had shut down the factories of three pharmaceutical companies – two in Ilorin in Kwara State and one in Lagos.
Explaining the action, NAFDAC's director general, Prof. Mojisola Adeyeye, said: "Due to insufficient evidence gathered and apparent resistance to provide needed documents during our inspection on May 2, 2018 at the respective companies in Ilorin and Lagos, it has become necessary to shut down all product lines of the three companies. This is to allow for a full and comprehensive investigation.The three companies, therefore, remain closed. The reopening of the manufacturing companies will depend on the level of cooperation that is shown during the comprehensive investigation."
Following the BBC report, the Nigerian Senate and wife of President Muhammadu Buhari, Aisha, said the government must do something drastic to curb codeine addiction by youths. Then came the ban announced by the federal Ministry of Health on May 1. It denied that the ban was as a result of the BBC story. Mr. Olajide Oshundun, the spokesman of the ministry said yesterday the timing of the ban and the BBC report was coincidental. According to him, a committee had been working on the problem since January, 2018. It was based on a memorandum submitted by the committee that the ban was announced on May 1, Oshunsun said.
It is unfortunate that BBC took the credit for the ministry's action. It is to blame for failing to go public on what it was doing concerning the codeine addiction problem. Henceforth, government and its agencies must know that secrecy does not always deliver the desired result. As in this case, it made the health ministry's decision look like an after-thought rather than the result of months of painstaking work. That said, it does not matter now that BBC took the credit. What interests Nigerians is that, at last, their government has taken steps to deal with a very serious public health problem. Kudos.
However, we hasten to say that the government must watch out for black sheep in the stable. It is not impossible for pharmaceutical firns whose production lines have been closed to try to bribe officials to reopen them. Again, to ensure fairness and justice, NAFDAC should not rush to penalise any companies but, first, make sure its facts are correct.